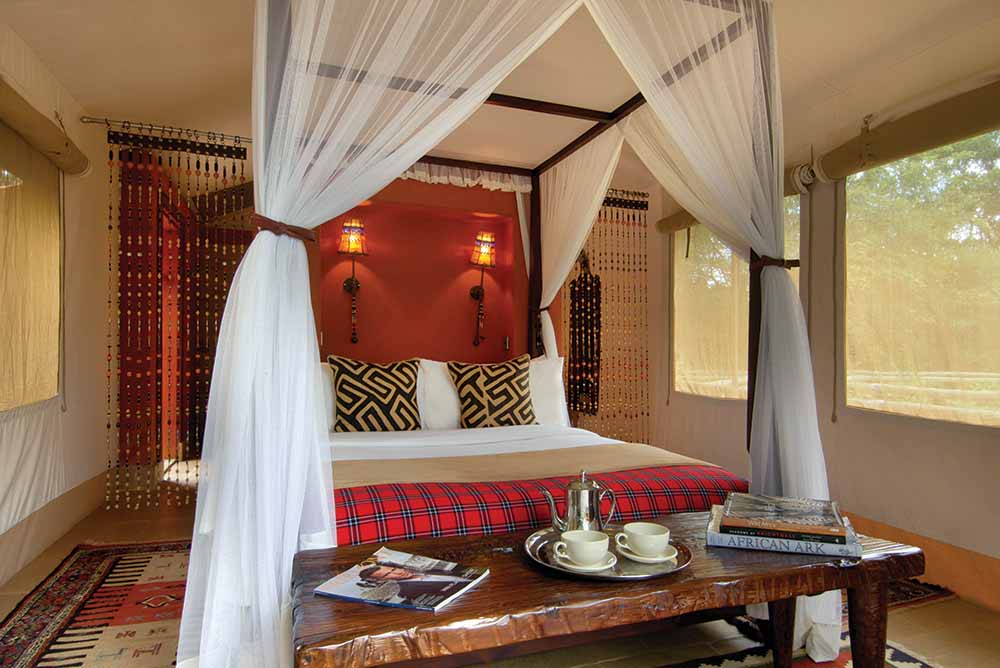 MARA SAFARI CLUB
As old safari hands know, one must be prepared for life in the raw while on a game visit, often staying in tents. However, as more recent safari hands know, there is camping, and there is it's distinctly upmarket relative: glamping! At the Fairmont Mara Safari Club, the "tents" are bigger inside than most hotel rooms, with a fourposter bed, shower, wardrobes, work desk and even a room safe! However, the canvas nature of the surrounds allows the external noises to be heard and the best alarm clock in the world is the sound of hippos grunting in the Mara River, yards from your front "door"!
The routine is delightfully simple: leave around 5:30am to be on the plains as the sun rises and be on a game drive until returning to have breakfast around 9:30 or so. A must-do is to have a "bush breakfast" out on the plains, complete with an armed guard keeping the lookout to make sure you aren't the breakfast! Spend the day snoozing, at the spa or by the pool, then head out again around 3:30pm to see the game, watch the sunset from the Aitong Hills (with sundowners, of course), then have fun on a "night safari" return to base for dinner. Repeat!
The game drives themselves are mesmerising. Be prepared for some genuine 4-wheeldrive action manoeuvring over streams, dry river beds and mud banks and getting into remarkable proximity to the local big game. It's exhilarating and nerve-racking in equal measure, but truly unforgettable.
In the nearby hills is a local conservation project hosted by the Club, featuring two of the few remaining white rhinos. Walking a few yards freely from well over 2 tonnes of wild rhinoceros makes for an unforgettable experience.
There is also ample opportunity to interact with the local Maasai people, from the cultural dances on arrival at the Ngrende airstrip to visiting a local village and market.
A two-night stay means at least four game drives, and dare I say it, you won't miss the golf!
The return to Nairobi is another easy hop on local planes. There is something magical about leaving one's hotel at 9:45am for a 10am flight!
Pages