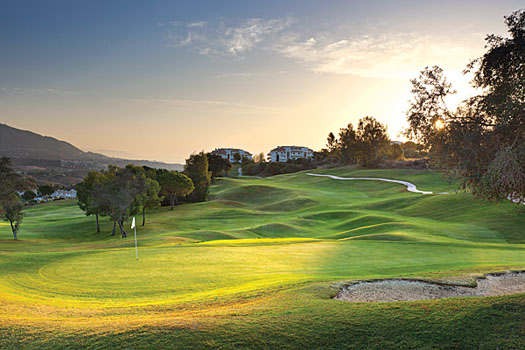 Is it any wonder Marbella is the spiritual home of Europe's travelling golfers? Regarded as Spain's answer to St Tropez, Marbella's chic promenades and glistening yachts provide an idyllic backdrop to a luxurious expat lifestyle. The glamorous town is awash with sleek marinas and exclusive promenades where designer labels and sport cars bask in year-round sunshine and the aqua blue of the Mediterranean Sea.
This is a place of high-end indulgence where some of Andalucía's finest eateries attract A-list celebrities like local couple Antonio Banderas and Melanie Griffith. The place is simply swimming in glamour, but does this decadence and excess extend to the local golf tracks?
Golf in Marbella is an eclectic mix of resort golf and trophy courses. It spans every conceivable genre and caters to all budgets. The luxury end features some of the country's best offerings, with the likes of Valderrama, Sotogrande and Las Brisas vying for top spot. There are also convenient hotel layouts and lavish routings that afford stunning ocean views. All are playable 12 months of the year and are best enjoyed with a light covering of sun-tan oil, short-sleeve shirts and a cool drink for good measure.
Pages
Click here to see the published article.