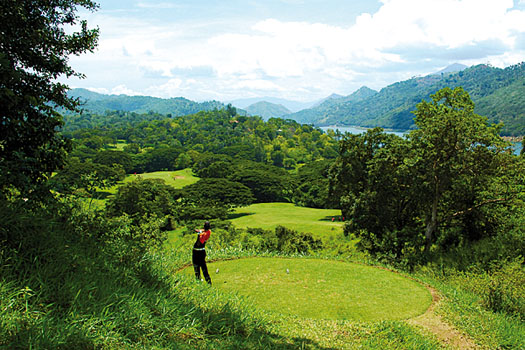 Falling like a droplet off the face of India, Sri Lanka's otherworldly beauty has moved many visitors to tears down the centuries. Known to Arab traders as Serendib - fitting source material for the word 'serendipity' - and British colonists as Ceylon, the island nation, with its tropical bounty of paradise beaches, jungle clad mountains and tumbling waterfalls, is as visually stunning as any on earth.
Like others before me, I am in thrall to the country's jaw-dropping physical attributes. However, it is the reliably unkempt state of my golf game as much as the verdant mountain scenery at Nuwara Eliya that is currently threatening to bring on the waterworks. Located at an altitude of 6,000 feet amidst the highest mountains in Sri Lanka, the course at Nuwara Eliya was built by a Scotsman way back in 1889 for the British servicemen and officials who used the town as a cool retreat from the sweltering lowlands in colonial times.
This particular Caledonian interloper, however, is singularly failing to do justice to his golf-obsessed forefathers. "You need to slow your swing down," says my aging caddie who is showing signs of being mortally offended by my crash-bang-wallop approach to the game even by the second hole. What is doubly galling is that the 'spotter', a second veteran caddie deployed to keep track of errant shots whom I deemed an unnecessary luxury at the outset of the round, is currently one of the busiest men in town.
The scattershot nature of my game is providing cause for consternation. At least, I console myself, I am stinking the place up in a thrillingly different golf destination.
On the face of it Sri Lanka is not the most obvious place to bring your clubs. Currently there are only four courses, Nuwara Eliya, Royal Colombo, Victoria Golf and Country Resort near Kandy and the new Eagles' Golf Links at Trincomalee. Meanwhile, the hilly topography of the island may make for some eye-catching vistas but it also contributes to some fairly tortuous journey-times. Nevertheless, the high standard of the four existing courses allied to the feeling that Sri Lanka's time as a world class tourist destination has arrived serve to make a compelling case for the country.
"Things are good here now," confirms Sunil, my driver, the following day, as we make our way from Nuwara Eliya back down through a succession of venerable tea plantations towards the city of Kandy where I am to showcase my appalling game in the SriLankan Airlines Golf Classic. Showing remarkable cool as he guides the car around a switchback corner, narrowly missing a three-wheeler making its way ponderously in the opposite direction, he continues: "We are at peace and we live in a land of plenty"
Looking around me at the cathedral of lush greenery in the mountains, it is not difficult to see why ordinary Sri Lankans like Sunil might have cause for an optimism that is not always easy to come by in the developing world. The vicious civil war that pitted Tamil separatists in the north and north-east against the country's Buddhist Sinhalese majority for over thirty years is now over - ending in bloody but comprehensive victory for the government of President Mahinda Rajapaksa.
With this newfound stability to fall back upon, Sri Lankans of all creeds can get on with the business of prospering in a near Edenic country blessed with abundant natural resources.
Pages
Click here to see the published article.