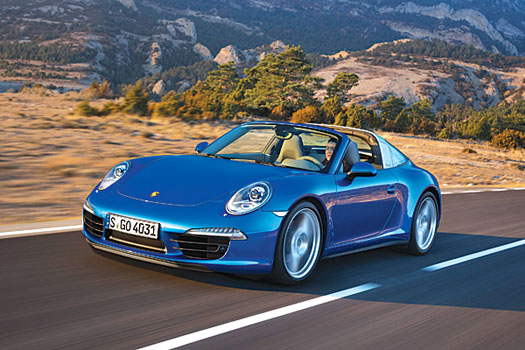 Porsche is a relentlessly modern carmaker. Founder Ferdinand Porsche would be astonished at the range of cars it now makes, from its Macan baby SUV to its silent plug-in hybrids. It's a brand entirely in step with the modern world: its sales in China leapt 20 per cent last year. China is now its second-biggest global market, and the biggest for its sedans and SUVs. The sports car market in China is growing fast, and Porsche is the market leader.
But for its latest model, Porsche has returned to its roots, and its customers in both its traditional and emerging markets will love it. 'Targa' is Porsche's second-oldest nameplate, after Carrera. Both names come from racing. The Targa Florio was a crazy event in which full-blown circuit racing cars would take to the twisty mountain roads of northern Sicily for ten laps of a 70km public-road circuit. It was an extraordinary spectacle, but it was finally deemed too dangerous to be a major international race in 1973. By then, Porsche had won it more often than any other manufacturer - including Ferrari and Alfa Romeo, to their considerable chagrin.
In 1965 Porsche adopted the Targa name for a 'semi-open' version of its iconic 911 with a lift-out centre roof section and a very safe, very distinctive steel roll-bar. There's been a Targa in the 911 range ever since: most recently using a huge glass section that slid back behind the driver.
But for the latest Targa Porsche echoes that original design, with a fabric center section that retreats electrically under the lovely, pillarless rear glass in 19 seconds. And that metallic roll-bar makes a welcome return, this time with very clever pop-out flaps that allow the roof section to pass through it. All seem to agree that this is now easily the best-looking car in the 911 range.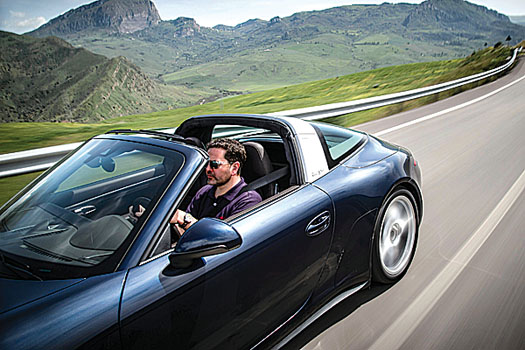 Pages
Click here to see the published article.