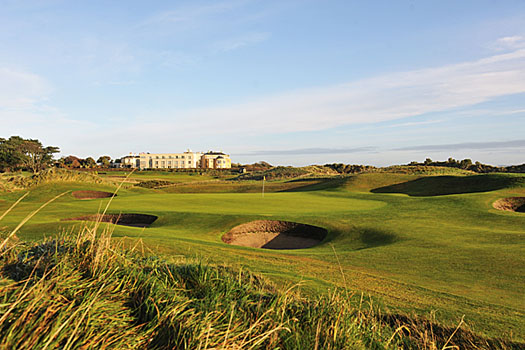 Golf, especially links golf, comes in no greater dramatic abundance than the Emerald Isle. Around the coastline the courses are spread like gems created by nature and linked together to form a necklace of beauty. Finding your way to these courses is all part of the adventure; travelling through a wild landscape of brooding mountains, past gurgling streams and ancient castles perched on top of windswept headlands. You may make a few wrong turns on the twisting and narrow roads, or have to wait for a flock of sheep to cross the road, but it is time well spent in anticipation.
County Antrim
Royal Portrush
Situated on the North Antrim coast, established in 1888 and included in every list of the world's top 100 golf courses, the Dunluce Links at Portrush has long been regarded as a great test of a golfer's skill, and had it been more suitable in logistical respects for staging a modern Open Championship it would almost certainly have held more than the one it did in 1951, when England's Max Faulkner lifted the trophy. Calls for the course's return to the Open Championship rota heightened following the 2012 Irish Open which was staged over this quite brilliant Harry Colt design. www.royalportrushgolfclub.com
Pages
Click here to see the published article.