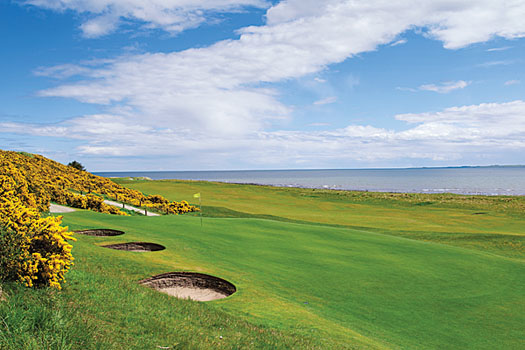 Golfers make for Dornoch, in Northeast Scotland, for its championship course, its quite extreme isolation and no small amount of romance. The game's been played here for 400 years and Royal Dornoch Golf Club has formally existed since 1887. Today it is a quite exquisite links, a fabulous test, natural and flowing, each and every hole just right, the order ideal, the location idyllic, the effect on the golfer spellbinding.
Despite its age the course is as relevant now as ever, increasingly relevant if the consistently improving rankings in countless golf magazine lists are considered. With a few more yards, a few large hotels and a better road network (none of which anyone should wish on this place) Dornoch would probably host very significant golf events. But it's better by far the way it is.
Although off the beaten track, far into the Highlands, four hours north from Edinburgh, one hour north from Inverness, golf pilgrims make their way here. Perhaps they've picked up one of many travelogue books where an overseas visitor (likely American) comes to Scotland and has an epiphany on a Scottish seaside golf course (mostly Dornoch). Or maybe they've heard the reaction of famous golfers or architects, from Tom Watson and Greg Norman to Pete Dye and Gil Hanse, who have made the trip and invariably expressed shock and awe.
These in-the-know global golf visitors come and stay in attractive local hotels or bed and breakfasts or else the super-wealthy might become members of The Carnegie Club at nearby Skibo Castle, historic home to the world's then richest man, Andrew Carnegie. He retired here, relaxing in his personal library distributing his monies across the planet to build public libraries. In spare moments he learned the game of golf, something he came to late in life but which he decided was an "indispensable adjunct of high civilisation".
Carnegie built his own course at Skibo Castle too which, over the years, has become a fabulous course in its own right, a true links wending its way round lochs and sea lochs, endlessly interesting, very challenging, and arguably the best conditioned course in the British isles. It is also an incredibly private affair, open only to members of The Carnegie Club, not those who turn left on aircraft but those who board their own planes. It's that sort of place.
Pages
Click here to see the published article.