Bodegas Emilio Moro is proud to use a local variety of the Tempranillo grape called Tinta Fino. This strain has evolved over time, adapting to the local "terroir" to become uniquely distinctive. It is Tinta Fino which makes Emilio Moro wines so exclusive and in particular the Malleolus de Sanchomartin which has been rated by Wine Spectator as not only Spain's, but one of the world's best wines, consecutively gaining an outstanding rating of 98 points.
Emilio Moro is well known as one of Spain's most prestigious wineries producing refined, award winning wines that can be found on tables of some of the worlds best restaurants, including top Michelin starred Chef Ferran Adria's, El Bulli.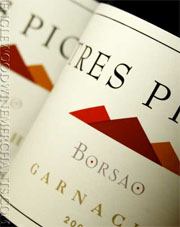 Situated in the northeast of Spain near Rioja on the Rio Ebro is the Campo de Borja DO and, notably, Bodegas Borsao. In a region regarded for its red wines, fresh white and rosé is also produced. Under the shadow of the Moncayo Mountains, the microclimates at Borsao's vineyards produce exceptional strains of Garnacha (Grenache). Borsao take this heaven sent product and blend it with Tempranillo and either Cabernet, Syrah or Merlot to create modern fruit forward Spanish wines. Robert Parker recently described Bodegas Borsao as "one of the worlds greatest value priced wines." Bodegas Borsao, whilst being highly rated, still strive to create great quality wines of exceptional value and affordability, most notably with their Tres Picos, 100% Garnacha coming from over 100-year-old vines.
Whilst Borsao has been producing exceptional wines for some time, a recent modernisation, coupled with a highly visible marketing strategy in Europe and North America has put Borsao on the map. Their wines are full bodied and fruit forward making them particularly suitable to pair with various styles of Asian cuisine.
One of Spain's smallest DO's is Priorat. Consisting of just 4151 acres (about 3% of the size of Rioja), Priorat is having a large impact with the creation of some of Spain's most unique wines. A once forgotten barren wasteland, it has recently been rediscovered and subsequently Priorat wines reflect the distinctinve 'licorella' soils and microclimate of its harsh terrain.
Pages
Click here to see the published article.