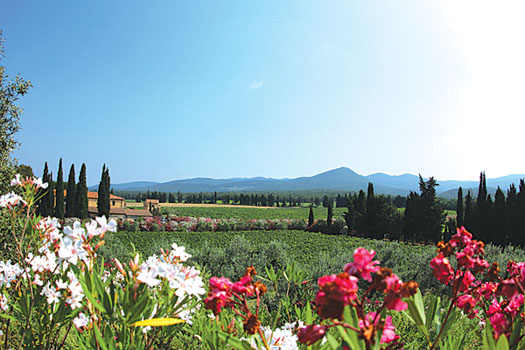 If Hong Kong has its Avenue of Stars, Tuscany, more precisely Bolgheri, has its Cypress Avenue: the 5km long "Viale dei Cipressi", which is lined by 2,540 elegant, towering trees. It is the perfect stage for a masterpiece – and I'm not talking about Italian cinema. This little paradise is situated inland, a short ride from the Mediterranean on the peninsula's west coast, south of Pisa, where the Etruscan civilization was founded long before the advent of Rome. The "Strada del Vino" wine road wanders amid forest, backyard alleys and vine fields, popping up names any wine lover is familiar: Tenuta San Guido, Ca'Marcanda, Guado al Tasso and Tenuta dell'Ornellaia, the wineries behind Sassicaia, Gaja, Antinori and Ornellaia.
Super Tuscan, Not Just Tuscan
Italy's winemaking industry has existed for millennia, dominated by Tuscany, along with Piedmont, known for Barolo and Barbaresco, and Veneto, where Amarone della Valpolicella comes from. Home of the world-famous Chianti, Tuscany defined school-like standards for many wine producers. However a few families truanted from the usual curriculum to create a breed of their own called "Super Tuscan": wines that were not exclusively produced from local Sangiovese grapes and therefore did no adhere to the only then allowed "DOC" appellation.
The dissident movement was initiated the end of the Second World War by Mario Incisa della Rochetta, a man who thought that the Bolgheri area was more suited for French-type grapes than local ones. He planted Cabernet Sauvignon and started to make a wine whose name pays tribute to the stony soils where it is grown - Sassicaia.
Another man from a 600-year old winemaking family, Piero Antinori, embraced this new approach and also added Bordeaux varietals Cabernet Sauvignon and Merlot to craft another of Italy's finest wines - Solaia. Most of these Bolgheri wines started as "vino da tavola", i.e. table wines, before substantial refinements in viticulture and wine production in the 1980s put them on the road to stardom.
Pages
Click here to see the published article.