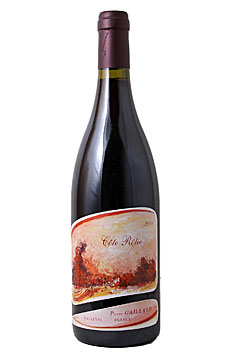 Some say that the best and most complex wines in the world are blends of several grape varieties. The reason behind this is because the winemakers have more control over the end project if you like, in the way chefs do over soup by adding seasoning.
The Rhône valley can be divided into north and south. In all, there are 19 different grapes used in the southern region, including Côtes du Rhône and Châteauneuf-du-Pape wines but only three are really used widely.
GSM may sound a bit like a misspelling of a food additive but it's a classic blend of Grenache, Syrah and Mourvèdre.
Grenache (the fruity French cousin of Spanish Garnacha) adds sweet jam, raspberry, and cinnamon notes to a wine's profile and makes up the bulk of wines from Southern Rhône - including world-dazzling Châteauneuf-du-Pape. Although it's light in colour and tannin, it adds a huge hit of alcohol, emphasizing the fruit flavours and giving the wines that luscious, baked cherry pie nuance.
Syrah (Shiraz's silkier sister) hails from the Northern Rhône and graces the well-known regions of Hermitage and Côte-Rôtie. It's known for imbuing wine with darker fruit such as blueberry, plum and black olive but with a frisson of supple silkiness which makes Syrah (especially 100 per cent Syrah) especially easy and pleasurable to drink.
Mourvèdre is used sparingly and is generally for adding a tannic backbone (think bitterness and bite and herby, leafy aromas) to a wine without too much depth. There can be some lovely single varietals out there but not from Rhône, alas. Keep an eye out for French Bandol or a Spanish Monastrell.
In the Northern Rhone, there are seven major appellations, Côte-Rôtie, Hermitage, Condrieu, Hermitage, Cornas, Crozes-Hermitage, St Joseph and St Peray. And Chateau Grillet, the only appellation which consists of just one producer. In the south, Châteauneuf-du-Pape, Gigondas, Vacqueyras, Tavel, Lirac, and Côtes du Rhône are the places where the magic happens.
For the wines produced in the Northern Rhône, only one red grape is allowable by law, Syrah. However, in Côte-Rôtie, producers can blend up to 20 per cent white wine grapes with their red wine in order to add extra aromatics and complexity.
The terroir of the north and south are markedly different and at first glance seem incapable of harbouring any kind of life which is why they both produce such distinct wines. The Southern Rhône is a tough combination of rocks, stone, sand, limestone and clay which gets whipped up by the Mistral, the hot strong wind that blows from north to south and removes excess water and repulses insects and disease.
In the Northern Rhône valley, the steep hillsides are filled with a variety of stone-laden soils containing limestone, quartz, minerals, clay, gravel, iron and sand. Northern Rhône wine can often be more tannic than the wines of south, requiring more ageing. They can also live and evolve for decades longer in many cases.
Loved by everyone from the professionals to the casual drinkers, Grenache-laden wines of the south are some of the most diverse and highly scored wines there are. While some are ready to drink young, the best present is to wait until they mature because an excellent Châteauneuf will bring lasting excitement to your cellar and dining table.
Pages
Click here to see the published article.