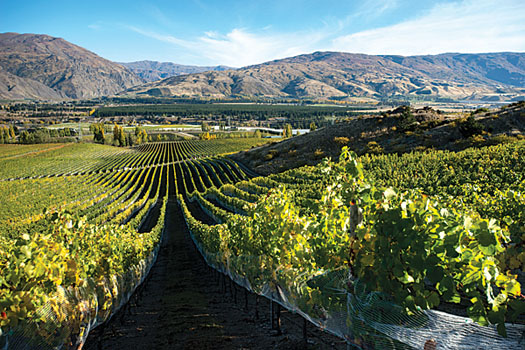 The South Island of New Zealand's Central Otago region grows not just the most southerly grapes in the country, but also in the world. The climate is in many ways comparable to that of continental Northern Europe - a fact reflected in the grapes which do best there.
The herbaceous Sauvignon Blanc wines with which New Zealand established its international profile now tend to be dismissed as generic and one-dimensional, but as they have fallen in critical esteem, the country's Pinot Noirs have risen.
Because New Zealand now particularly excels at Pinot Noir and Chardonnay, comparisons are often made between the country and Burgundy - although conditions in the North Island are closer to those of Bordeaux, and Cabernet Sauvignon thrives there.
In the South Island, particularly in Central Otago, conditions are more Burgundy like, and this is where some of the country's best Pinot Noirs are made. There are also points of similarity with conditions in the Champagne region, and while good sparkling wines are made in Australia, those of the South Island are sometimes said to be closer in style to the sparkling wines of France.
Be that as it may, as is the case with all New World wine regions, after a certain point Old World comparison becomes unhelpful. The regions must forge identities of their own.
Akarua in the Bannockburn sub-region is one of Central Otago's most reputable producers, particularly of Pinot Noir which accounts for the planting of 70% of its 50 hectare vineyard area. The balance is Pinot Gris, Chardonnay and a small amount of Riesling.
A small group of wine lovers gathered recently in the HK Golfer offices to put a few of the wines through their paces.
One of the sparkling wines seemed a good place to start, and the Akarua Brut Non Vintage went down very well with everybody present. A high "guzzle factor" was one apt, if non-technical assessment of a wine made from a Pinot Noir and Chardonnay blend, which offered both a creamy mouthfeel and a well balanced acidity.
It is not of course directly comparable to very top-end champagne, but then at HK$185 it isn't priced like one, and is far better balanced than some of the viciously acidic "grower champagnes" now flooding the market. Serve well chilled, and let it develop as it warms up in the glass.
The Akarua Rosé Brut N.V. has slightly more Pinot Noir and slightly less Chardonnay, and oddly isn't particularly pink. It does however have the hint of strawberries desirable in that style. If I had to find a point of international comparison it would be not with champagne but with some of the increasingly good rosé sparkling wines now being made in Southern England. But at HK$185 (specially discounted price to HK Golfer readers) it's cheaper than those as well. That got the "guzzle factor" endorsement too.
On to the Riesling from the 2012 vintage. Riesling is one of the great divisive grapes in Old World/New World debate. Burgundy lovers can generally enjoy New Zealand Pinot Nor and Chardonnay. Fans of German or Alsace Riesling seldom like to stray from northern continental Europe.
My own inclinations are more along Teutonic lines, but the 2012 (HK$158) had the refreshing citrus acidity the New World Riesling fan seeks, and would be a good match for a lot of spicy Asian cuisine.
The Pinot Noirs were the point though. We sampled the 2011 and 2012 vintages, both of which warranted pleasurable leisurely contemplation.
These are both 100% Pinot Noir, and the 2011 (HK$158) still has the fresh berry flavours of a young wine, and a pleasant hint of spice. It is drinking very agreeably now, but probably warrants cellaring for another couple of years or so. This one picked up a gold medal at the 2012 New Zealand International Wine Show.
The 2012 (HK$238), which picked up a gold medal at the International Wine Challenge 2014, has the potential to emerge as the better of the two vintages. Well balanced and with the intensity more characteristic of New World than Old World Pinot Noir, this is also drinking very well right now, but it's still well worth putting a few bottles aside for future enjoyment.
For further information please refer to the opposite advertisement or contact us at wine@hkgolfer.com. Orders can be made directly through the HK Golfer store
Click here to see the published article.