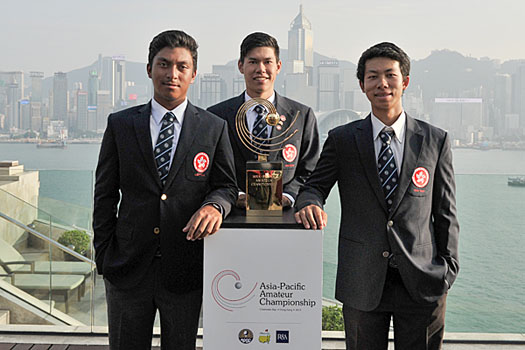 At the beginning of October - a full three weeks before the reinvigorated UBS Hong Kong Open got underway - Clearwater Bay Golf and Country Club hosted arguably the second most important tournament to have ever been staged in Hong Kong.
Established and organised by the Masters Tournament in harness with The R&A and the Asia-Pacific Golf Confederation (APGC), the Asia-Pacific Amateur Championship (AAC) was inaugurated in 2009 and has produced winners of the calibre of Japan's Hideki Matuyama, a two-time champ and now a proven PGA Tour star, and Chinese phenom Guan Tianlang, who claimed the title in Thailand back in 2012.

The AAC, which is the most televised amateur event in the game, is all about providing opportunities. The winner gets a place in the Masters the following spring - nod of the head to both Matsuyama and Guan, particularly the latter who became the youngest player to ever make the cut at a major when he achieved the feat at Augusta in 2013 - as well as an exemption into The Amateur Championship and, along with the runner-up(s), a place at The Open Qualifying Series, the gateway to The Open. For any young talented amateur - and the best amateur players are all very young indeed - victory at the AAC provides the stage on which to showcase their skills to the world. Make no mistake: the AAC is a massive deal, so for the event to travel to Hong Kong for the first time was a significant coup. After all, it's not just the players who get seen by a global TV audience - the host venue is very much in the spotlight too.
Pages
Click here to see the published article.