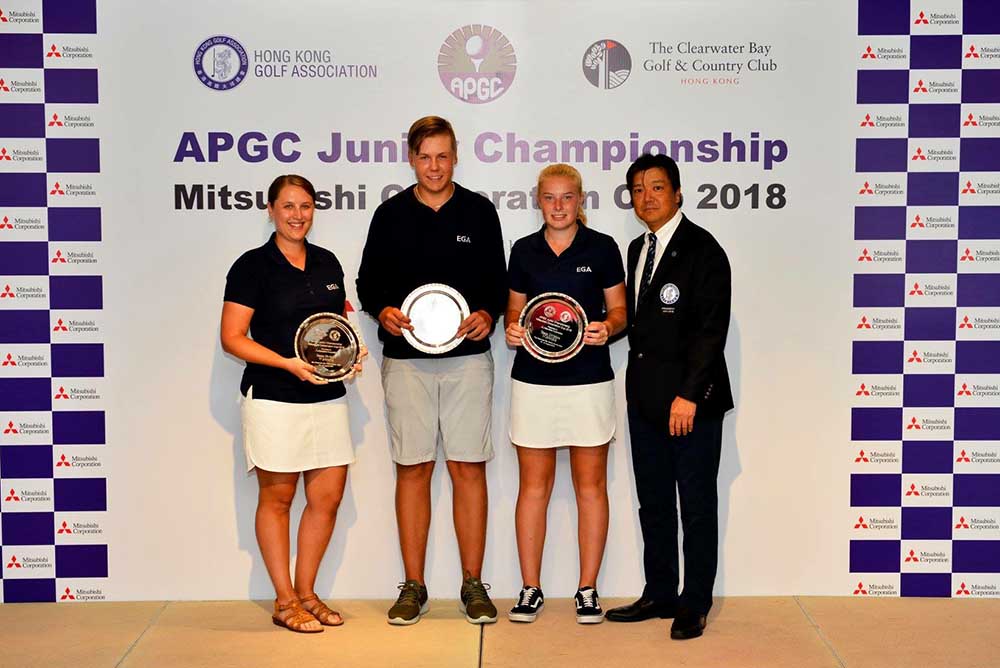 Playing through wind and rain, the Europe 1 team of Sakke Siltala and Caitlin Whitehead posted a 17-underpar four-round score of 263 to win the 2018 Asia-Pacific Golf Confederation Junior Championship for the Mitsubishi Corporation Cup 2018 held at The Clearwater Bay Golf & Country Club. The pair finished eight strokes ahead of the Korea 1 team of Oh Seunghyun and Hyun Selin, who combined for a score of 271.

Siltla carded an individual round of 69 to win the Boys Overall Tournament, narrowly beating Pickin Jye of Australia 2 and Josh Greer of Australia 1, who finished tied for second at 70. Whitehead shot a six-under par 64 to claim the Girls Overall title, beating Hyun of Korea 1 and Jo Hyelim of Korea 2, both of whom shot 68.
By winning the Boys and Girls Overall championships, Sakke also qualified to play in the Asia-Pacific Open Golf Diamond Cup 2018 in Japan and Caitlin in the 2019 Korea Women's Open.
Inclement weather conditions forced tournament organisers to reverse the format of this year's tournament and hold stroke play on day 1. The stroke play competition featured a standard 18-hole round with a seeded draw where male and female players each produced individual scores toward their teams' final four-round totals. Foursomes and fourball were played on days 2 and 3.
Six teams from host nation Hong Kong competed in this year's tournament. The Hong Kong team 1 of Cyrus Lee Yu-fung and Selina Li Yuen-yuet finished 15th with a score of 291, while the Hong Kong team 2 of Inara Diti Sharma and Yu Ka-jun finished 20th at 297.