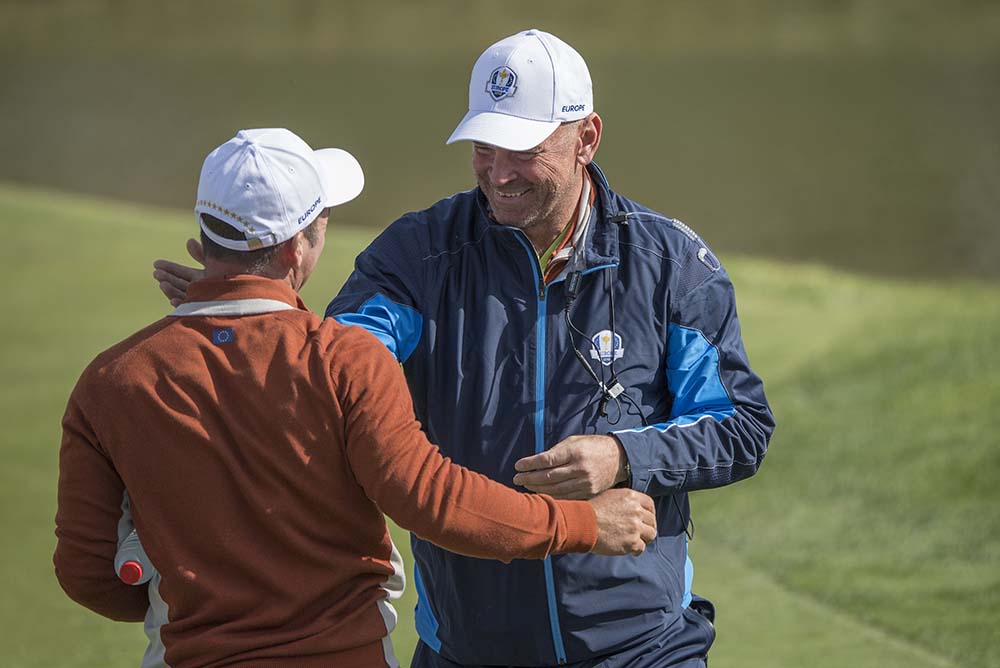 Now, the Kilted Caddie is not averse to the odd gamble either. In fact, a good friend is a very successful professional gambler on the gee-gees, and I am rather into it. However, I made a rather poorly judged move in betting on a U.S. win after the first day's play of the Ryder Cup, when their odds jumped to four to one. However, this was a massively misjudged punt, for the received wisdom that the Americans should be the favourites in Paris was wrong.
A real professional golf gambler would have realised this at the outset. Let's look at the underlying factors. Firstly, the tight course which is the permanent home of the French Open and is an integral part of the European Tour. Our guys all know this track well. It is a formidable and exacting test of golf and pays to be studied. Secondly, the weather. Paris in late September is likely to be much more favourable to us hardy Europeans. Remember, we don't drink like a fish for no reason.  Next, the critical home crowd factor. Now, this turned out to be not so much a plus for us but a massive negative for the U.S. team. Americans perform a whole lot better when all that whooping, and ranting and cheerleading thing is going on. It's in their DNA. Look at American politics and the fiasco that is a Trump rally or go to a football game. All this boozy bravado and candy floss, bannered cheering is deeply embedded in the American psyche. I think this goes a long way to explain the twenty-five-year period since the last U.S. win on European soil.
A small note on the U.S. Team wall, however, spoke volumes and hinted at a more fundamental and entrenched matter. 'Leave your egos at the door' it proclaimed. Now that's worrying, for in a team event that is the epitome of team events this was disquieting motivational fodder. It points rather glaringly at a significant and deep-rooted issue in the camp and certainly seemed to have a rather negative effect on poor Tiger. He stomped around Le Golf National for four days with the expression on his face of a child who has thrown his rattle out of the pram.
So, it very much looks like a Tiger without ego is not a good thing. He was certainly not a Happy Hector. In fact, he seemed permanently on the verge of bursting into tears. Jim, give it to him back.
It didn't help a lot either in Jordan Spieth making it clear that he didn't want to play with the individual that is Patrick Reed. That declaration is not going to do a whole deal of positive for the all-important dressing room atmosphere. You know the team spirit thing.
Pages