One Wild Week
Bubba Watson fired his way into Masters history courtesy of a shot that few others would ever contemplate, let alone produce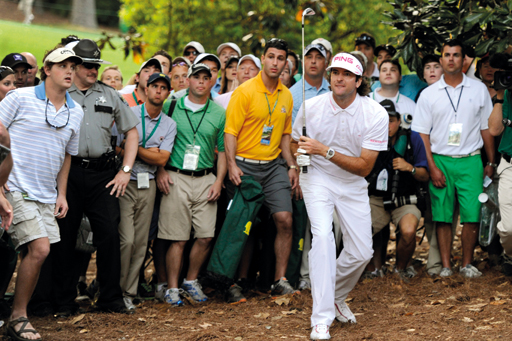 It took a while for the traditional Masters Sunday back nine energy and excitement to start echoing though the Georgia pines, but echo it did as the mercurial creativity of Bubba Watson emerged victorious after closing out the sublime swinging Louis Oosthuizen on the second hole of a sudden-death play-off.
Having experienced major heartache at the 2010 US PGA Championship, the emotions of this breakthrough win on Easter Monday bubbled over for Watson, a devout Christian. With wife Angie and new son Caleb not able to travel to Augusta, Watson calmly two-putted from 12 feet at the 10th hole for the victory and tearfully embraced first his caddie, then mother Molly, followed by close friends Rickie Fowler, Ben Crane and Aaron Baddeley to a backdrop of deafening cheers.
Only moments earlier, Masters patrons had witnessed one of the most outrageous recovery shots in the tournament's history. Having driven into the trees flanking the right side, Watson left himself a 155-yard shot off pine straw through an opening that required a 40-yard hook to reach the green. Under normal circumstances, this would have been enough of a challenge for the excitingly imaginative Watson, but to execute the shot perfectly – using a gap-wedge, no less – in the most pressure packed of situations was something truly special.
Not that Watson, who reportedly suffers from attention-deficit disorder, was particularly fazed by what he had been confronted with.
"I was there earlier today in regulation so I was used to it. I knew what I was facing there," he said from the Butler Cabin before receiving his green jacket from defending champion Charl Schwartzel. (Schwartzel himself had been through the wringer after finishing his own round, watching close friend Oosthuizen's travails nervously on TV). "I had a good lie and I had a gap where I had to hook it, I don't know, 40 yards or something. "I'm pretty good at hooking and somehow it nestled close to the hole."
Oosthuizen, the streaky South African who claimed the 2010 Open Championship at St Andrews in such convincing fashion, was magnanimous in defeat.
"I had no idea where he was but when the ball came out of there it looked like a curve ball, an unbelievable shot," smiled Oosthuizen. "We had a great time out there."
Thirty-three year-old Watson's victory in only his fourth appearance at Augusta is a crowning achievement not only for himself, but also for an approach to the game that is unmatched by any of his peers. Watson proudly flies in the face of the modern path to success, never having received formal instruction and even refusing to analyse his own swing on video. Indeed, such is his common man appeal – something both John Daly and Lee Trevino have by the bucket-load – this win could herald a new legion of fans who want to play what has become known as "Bubba Golf".
Prior to that momentous hook shot Watson had played for him a relatively controlled round of golf from tee to green, appearing to not overdo the curvature of his shots from the fairway and only producing the audacious when required to extricate himself from trouble. After bogeying the par-three 12th, the shortest hole on the course, Watson made four birdies in a row – "I was nervous on every shot and every putt." But his exercise in control and some clutch putting down the stretch was outstanding and bore witness to a maturing of his game under the crucible of major championship pressure.
With pre-tournament favourites Tiger Woods and Rory McIlroy long relegated to the category of also-rans (they would both finish at five-over par in a tie for 40th), the darling of the Augusta galleries Phil Mickelson's fight back from the brink of disaster on the first day was highlighted by a brilliant six-under 30 on the back nine on Saturday. Mickelson's magic would ensure an eagerly anticipated showdown for a fourth green jacket with 54-hole leader Peter Hanson, the unheralded Swede, who had stormed to the top of the leader board with five birdies in his last seven holes. But this was no two-horse race. Oosthuizen, Watson, Matt Kuchar and Lee Westwood were all lurking with intent.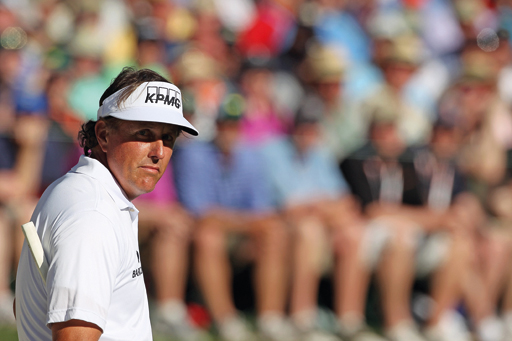 Oosthuizen in particular had impressed, with the CBS commentary team, including three-time Masters champion Nick Faldo, swooning at how well he was swinging the club and managing his game.
And as the final round unfolded, it was the diminutive Oosthuizen who got off to the fastest start, stealing the lead from a decidedly nervous-looking Hanson with that rarest of birds – an albatross (double-eagle) – when his four-iron from 253-yards landed on the front of the second green, caught the ridge and rolled perfectly into the bottom of the cup.
"It was tough after that double eagle," said Oosthuizen. "It was my first double eagle ever and it was tough the next five holes to get my head around it, but I found my rhythm from around 11."
Despite what he said, Oosthuizen looked the most comfortable man out there, with his fluid action matching some clutch putting for par. The only problem: he couldn't pull away. With a one-shot lead, the man known as "Shrek" made an error with his wedge to the accessible pin location on 14, spinning the ball back off the false front to the fairway. A gutsy 10-foot par putt down the slope was followed by another on 15 for birdie, as Watson looked over an eagle putt which he would narrowly miss.
With Amen Corner, holes 11 through 13, having failed to conjure up its traditional fireworks, the roars heard after Kuchar's three-wood to three feet for eagle on 15 and then Watson's right-to-left curling putt to tie the lead gave Oosthuizen plenty to contemplate.
Kuchar would suffer the immediate letdown of a bogey after a poor tee shot on 16, leaving leaders Watson and Oosthuizen's nerves to be tested after wayward drives on the 17th put them out of position on opposite sides of the fairway. Oosthuizen made a brilliant up-and-down from the front bunker to save par and Watson, after skying the ball over trees from hardpan to 35 feet, hit the hole with his birdie putt before sinking a knee trembler to head to the 72nd hole tied with his playing partner.
After epic drives both players faced short approaches to the home hole, Oosthuizen carrying the ball only a yard or two too far to end on the second tier of the highly contoured green. Watson, playing second, seized the advantage by spinning the ball back to within 20 feet.
When Watson missed his chance to win in regulation, Oosthuizen would again call on his putter to save him by holing from six feet to force extra holes. The efforts of Kuchar, Hanson, Westwood –who again had faulty putter to blame – and Mickelson were in vain. They finished tied third, two strokes back.
Mickelson in particular will have felt wretched. His final round 72 included his second triple bogey of the tournament after his tee shot struck a grandstand to the left of the third hole and caromed into bamboo. From there, he opted to play from where it lay as opposed to returning to the tee but needed two right handed stabs at the ball, a pitch, bunker shot and one putt for a six.
Much was made of the fact that Lefty had clawed his way back into contention after a miserable start on Thursday, but the fact is this: he was the overwhelming favourite heading into the final round and made a hash of it. The situation wasn't quite Winged Foot in 2006 but Mickelson will have spent large amounts of time on his family holiday in the Bahamas the following week reflecting on how he had lost a gilt-edged opportunity to tie Woods with a fourth Masters title.
But this was Watson's time. When asked what winning so soon after becoming a father meant to him, the tearful Watson was lost for words for some seconds as he battled with his emotions. "I never got this far in my dreams. It's a blessing. To go home to my new son, it's going to be fun.
"I kept my head down because I knew there were birdies and eagle opportunities on the back nine. Couple of holes in one there already on 16 (by Bo Van Pelt and Adam Scott), so I knew that was a possibility too. I just kept going, kept grinding it out and somehow got into a play-off. I don't know what happened for the rest, I was crying a little bit later, that's about it," he smiled through red eyes. "It's nice, I look like you now!" he later joked with Schwartzel, after slipping into that most coveted of blazers.
The question now of course is whether or not this Floridian from Bagdad – "there's no 'h' in my Bagdad" – who has wowed us with his outlandish talent since appearing on the PGA Tour half a dozen years ago – can push on and add to his major haul. At the very least he has erased the doubts of those critics who questioned his putting ability on firm, fast greens.
One thinks that the narrow corridors of play at the Olympic Club, host venue of next month's US Open, won't be an easy fit for Watson. But with his natural shot-making ability, Royal Lytham & St Annes should present a far more suitable arena in which to challenge when the Open Championship rolls around later in the summer.
Watson is the latest major winner in an era that has now thrown up its eighth consecutive first-timer. He is the highest ranked American in the world – and certainly one the most exciting to watch. If he can remain comfortable with his new-found status – and, having endured a week of chat show interviews with the likes of Piers Morgan and David Letterman, there's reason to believe he can – then we'll likely be hearing a lot more from him at the biggest events in the months and years ahead.
Written by The Editors
Click here to see the published article.