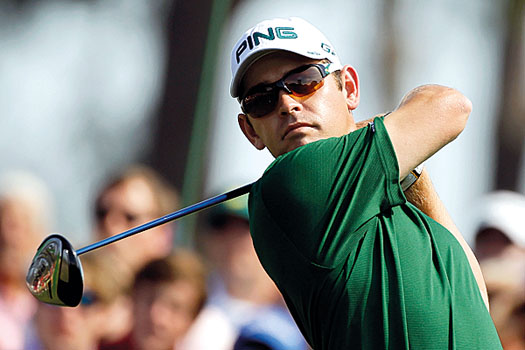 By most accounts, 2011 was a tough year for Louis Oosthuizen, and it was always likely to be testing. Matching his breakthrough 2010, where he won a Major and a further European Tour event, seemed to be a near-impossible task. What's more, he had an annoying voice (both in his head and outside it, and mostly in an American accent) that was telling him his win at St Andrews was a fluke. Having been inside the ropes at that event, I can assure you that there was very little that was lucky about Oosthuizen's seven-shot victory. It was as close to golfing perfection as one could hope to see – and yet Louis still felt he had something to prove, particularly in the United States, where he set up his base last year.
This year, something clicked. It kicked off in the Masters, where Oosthuizen holed a 4-iron for an albatross on the second hole of the final round and then pushed eventual winner Bubba Watson all the way to the end. The Americans were starting to like humble, laid-back Louis, who smiled all the way through the final round, the play-off and the post-round interview, where he was gracious in defeat.
As bitterly disappointed as he must have been – he missed the rare opportunity to have the Green Jacket placed on him by his best friend and compatriot Charl Schwartzel – Louis hopped on a plane and sped across the globe to honour a commitment to play in the Malaysian Open. As luck would have it, this time he won, albeit a week too late for his liking, as he joked about the colour of his winner's jacket being the wrong shade. "It would have been better if I had the Green Jacket," he laughed, "but coming here and winning after what happened last week showed me that I can pull it off, so it's very important."
Oosthuizen is now, like so many South Africans before him, a global golfer, competing on both the US and European Tours, with commitments in Asia and South Africa as well. As a Major winner, he's in high demand, but one gets the sense that even for him, the endless travel is getting to be a bit too much. With a young family (Louis is married to Nel-Mare and has two young daughters, Jana and Sophia), it makes sense that he's making a home for himself on the PGA Tour, where the weather and travel is often easier to deal with.
Back in the States, he's come agonisingly close to winning on a number of occasions, racking up five top-five finishes without actually getting over the line, eventually finishing seventh in the FedEx Cup final standings.
Pages
Click here to see the published article.