Insider Knowledge
Lewine Mair profiles Christian Donald, Martin Kaymer's caddie and the older brother of world number one Luke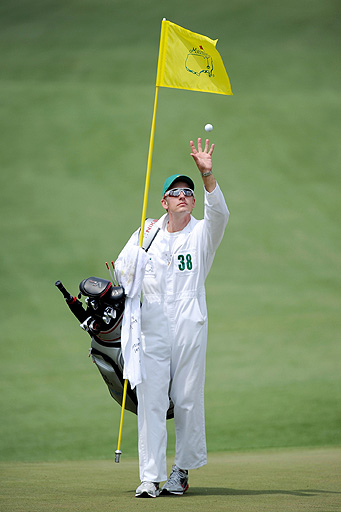 Who better to discuss the respective merits of Luke Donald and Martin Kaymer, the man held to be the most likely to pinch his world number one spot in 2012, than Christian Donald? The 40-year-old Christian knows golf and the golf of these two players inside out.
Formerly the head professional at Harleyford Golf Club in the southern English town of Marlow, Christian was looking for a change of direction when Luke, by six years the younger of the Donald brothers, was starting up on tour. He decided to carry his bag by way of helping him to get started – and stayed with him for eight years before switching to Kaymer before this year's US Open.
Christian helped Luke through the three stages of Qualifying School in 2001 and, in the years that followed, they bagged three wins in Europe and two on the PGA Tour. Everyone envied them their player-caddie relationship, with Colin Montgomerie, for one, saying that he would love to have had a brother at his side on his American forays.
The two split when Luke's wrist injury of 2008 led to a relative down-spell. Try as they might, they could make nothing happen. Luke suggested to Christian that their on-course relationship was getting stale and Christian agreed. Typically, there were no hard feelings and, after Luke had handed in his closing 66 at the Dubai World Championship last month to add the European money list title to its US equivalent, Christian was waiting to give him an elongated hug – and to say how proud their late father would have been.
Looking back, Christian says the change was good for both of them. He then had a brief spell with Paul Casey – "Paul's a great friend but he was way too fiery for me" – before getting the call he wanted from Kaymer.
In linking up with the former US PGA champion, he revelled in his return to a player who, like Luke, remains on an even keel from the first hole to the last.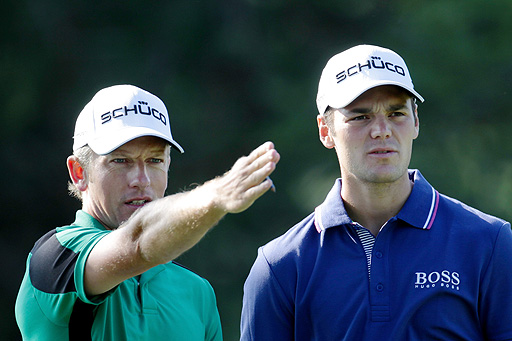 Just as an on-duty meerkat will always be scanning the horizon for approaching foes, a good caddie is always on red alert for the arrival of his master.
When Martin came round the corner as this interview was taking place, Christian sprang to his feet, only for his player to insist that he carry on with what he was doing. He could join him when he had finished.
Before Martin moved away, Christian called for his view on the question which had just been put to him. Did he see himself and Luke as two of a kind in the way they go about their golfing business?
Kaymer nodded. He may or may not have noticed a couple of golf's more extrovert exponents walking down the path as he observed, "We're both focussed on letting our clubs do the talking."
Christian's personality and his way of caddying are in total accord with this philosophy. He is softly-spoken, perfectly prepared and utterly professional.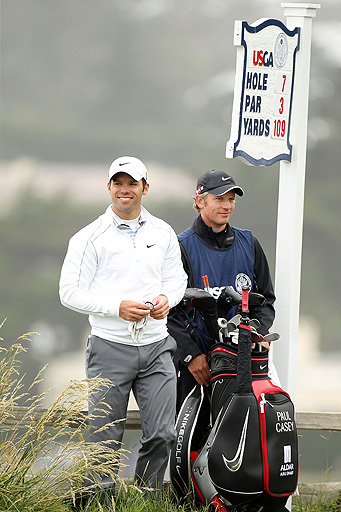 To him, the most striking aspect of Luke's play is the strength of his short game and his ability to claw back shots, whatever the circumstances. "If he's two or three over par on the way out, he'll somehow get it back coming home. You're not going to see him score in the high seventies."
Luke provided the perfect illustration in his second round of the Dubai World Championship where, if Rory McIlroy were to win the tournament, he had to finish ninth or above to have the better of the younger player in the Race to Dubai.
After eight holes of that second round, Donald had dipped to 31st place while McIlroy was up among the leaders. Typically, though, the Englishman closed with three successive birdies to haul himself into 12th spot prior to overtaking his rival early in the third round.
Christian hit on Martin's mental strength as his forte: "When Martin gets in position, he's going to win. He's got that inner belief; he's good at finishing a tournament. Luke is getting better in this area but, in spite of everything he's done and won, he's only now starting to believe how good he is."
It was five or so years ago that an American golf psychologist told Luke to start seeing himself as the best player in the world. Luke did his best to oblige but it was not him. "He was so far behind Tiger at the time that he couldn't begin to believe it," said Christian, who added that nothing had made more of a difference than the work Luke does today with mental tactician Dave Alred, who helped former English rugby star Jonny Wilkinson become the best kicker in the game. "Dave gives him proof that he's the best."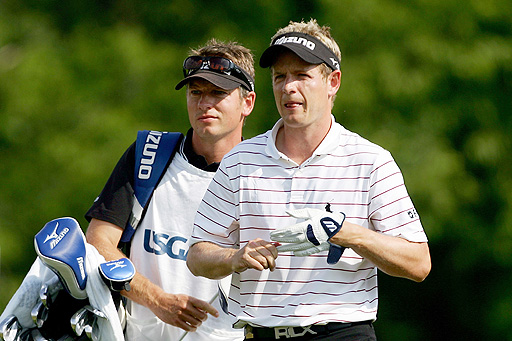 To recap, Alred started the player on a practice regime in which every session is a competitive affair, one in which Luke and his current caddie, John McLaren, will record how many shots from, say, 100 yards, finish within three feet of the hole; and how many putts holed from a series of different distances. The records are passed on to Alred for analysis each week. Alred, who was in Dubai, explained that it is the "angst" involved in trying to outdo the previous day's performance which makes his methods work.
In terms of Luke's and Martin's technique, Christian sees Martin as the better driver of the two. Luke, he noted, had tended towards a couple of wayward drives per round in 2011.
The players' work ethic is much the same, while it is Martin who asks for the more help, particularly when it comes to reading putts. Christian suspects that the reason Martin is the more receptive could be because they are not related to each other.
Christian never volunteered advice to Luke and, by the same token, he waits for Martin to initiate any discussion on club selection.
"The secret of being a good caddie is in knowing when not to speak," he said. That, of course, is something the job has in common with golf commentary, a role in which Christian had his first experiences a few months ago as British broadcaster Sky Sports called him in to talk about Luke's winning of the US money list. The chances are that they will want him back.
You ask which of Martin and Luke is the more chatty and, though he did not think the word "chatty" exactly applied to either, Christian opted for Martin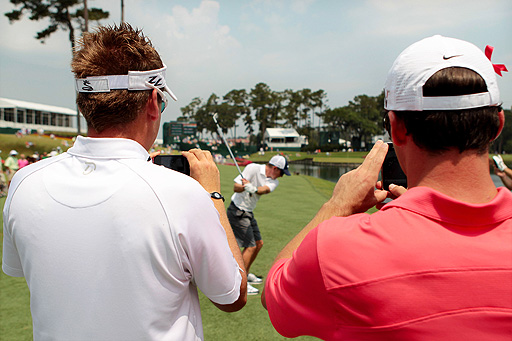 "Luke doesn't give too much away," laughed Christian. "You might say to him, 'I saw so-and-so yesterday' but he doesn't really react. Others, including Martin, would be more inclined to reply with a rather more enthusiastic, 'Oh, really, tell me about it'. Luke's just Luke. He tends to keep himself more to himself.
Yet, as Christian stressed, it is all relative. Both players are the reverse of those of their rivals who are all exuberance one minute and out-of-sorts the next, which is why they cope so well with their golfing lifestyles.
Though Luke will apparently get "more irritated than you might think" when sections of the press suggest that no-one should be the world number one unless he has won a major, both men like to fly under the radar.
In Kaymer's case, this was never more amply demonstrated than by what happened when he won the WGC-HSBC Champions in Shanghai in November.
Because of Steve Williams' notorious comment about Tiger Woods at the caddie party on the Friday night, Williams was the centre of attention. Not just on the day after the party but the next day and the next. Even on the Monday morning, the newspapers devoted far more space to the incident than to Martin's winning of the tournament.
Did Martin ever mention the lack of coverage to Christian?
"Heavens no," returned Christian. "Something like that would never worry him. It's the winning that appeals."
Written by Lewine Mair