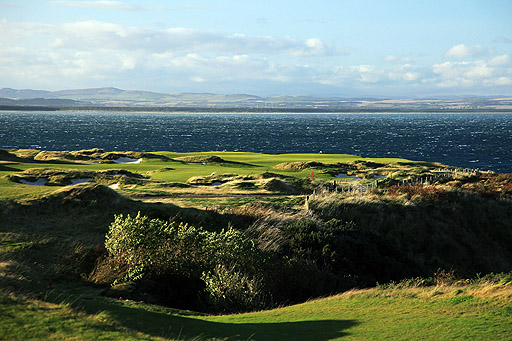 Everyone knows the Old Course, arguably the most famous piece of golfing terrain on the planet, but there are in fact another six courses, all of which are open to the public, which fall under the banner of the St Andrews Links. Together they form the largest public golf complex in Europe.
The seventh of these layouts is the Castle Course, which opened for play in 2008 and was the first course to have opened in St Andrews for nearly a century. Designed by David McLay Kidd, the course is a rugged clifftop challenge, one that is very much exposed to the elements – as is highlighted in photographer David Cannon's latest book, Golf Courses: Britain and Ireland.
"This was one of the great days for seaside photography," says Cannon. "I was shooting at the 2010 Dunhill Links Championship but play had been suspended because of 80mph winds, so I drove up to the Castle Course. It was an opportunity to catch the sea at its best with the flags barely able to stay in the ground. The 17th and 18th holes rival the views of any finish in the world. I was lucky to be able to hold the camera still enough to capture this picture of the par-5 finishing hole."
David Cannon's Golf Courses: Britain and Ireland is published by Rizzoli and is priced at US$195. Available at all good online book stores it also features an introduction by Padraig Harrington and further texts by Sir Nick Faldo and Peter Alliss.