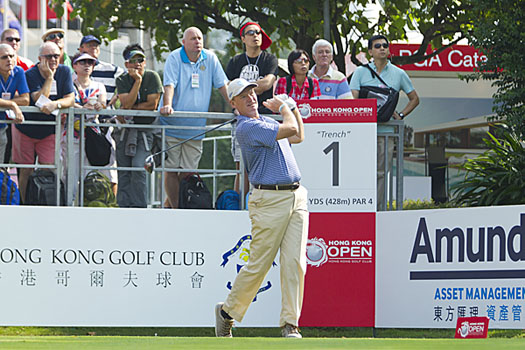 Ernie Els made his debut at the Hong Kong Open last month. He was suitably impressed as Club Captain Mark Roberts showed him around the Fanling clubhouse, with its impressive array of trophies and champions' boards reflecting the quality of winners of the long-running championship. Making all the right noises he was hopeful that he too, as a four-time major champion, could add his name to the winner's board. For two days he played as if it was his birthright to join the likes of Thomson, Norman, Couples, Watson, Langer, Montgomerie and McIlroy. For the next two days he played as if someone had stolen his birthright, barely able to scrape a birdie on a course measuring someway short of 7,000 yards.
Carrying his bag, the worldly-wise Colin Byrne was tearing his hair out. The stubborn Afrikaner seemed hell-bent on proving that conventional wisdom is for mere mortals and that when you have descended from Mt Olympus there is a better way to get the job done. The fourth on the Composite Course is a reachable 288-yard par-4, but almost everyone lays up to leave a wedge to the green. Except Ernie. One-over-par on that hole after two rounds he told the world, in a television interview with Warren Humphreys, that he wouldn't be "going for it" again. After four days of going for it he was still one-over-par.
On Saturday, on the hardest hole on the course, the long par-4 ninth, he tried to hit his drive left of the very tall paper-bark trees, down the adjoining fairway on the New Course. It was a tactic Bernhard Langer had used years ago, when the trees weren't so tall. Now it seemed madness. Even more so when he snap-hooked his drive into the distant hedge and very nearly out of bounds.
After a penalty drop and a "hit and hope" that miraculously found its way through the trees and back onto the ninth fairway he made a double-bogey six that could easily have been an eight or nine.
The crowds enjoyed watching him though, so perhaps that's all that matters?
Pages
Click here to see the published article.