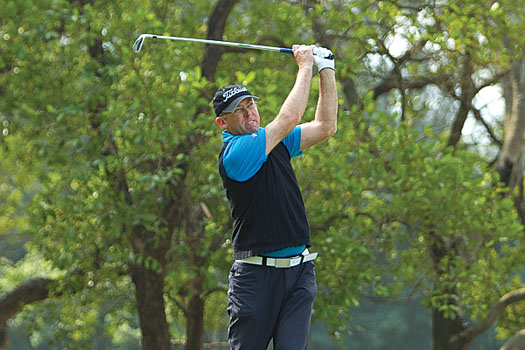 When did you start playing - and when did you get good?
I first picked up a club at the age of eight. My father was the general manager at Royal Hobart Golf Club in Tasmania and so access to the course was never a problem. Later, when I was 11, we moved to Melbourne where he worked at Latrobe Golf Club. I used to practice every single day on the driving range. I was very fortunate. Latrobe is a traditional, tree-lined course, and I like to think that helped my game. I'm pretty accurate off the tee.
I got down to scratch by the age of 15 and got into the Victorian schoolboys' team and later the junior team. I played a lot of golf with Geoff Ogilvy. Boy, did he have a temper! But we did well, winning the national junior team title. I always wanted to be a pro and when I turned 18 I decided to do a traineeship, which lasted for three years. Then in 2001 I had the opportunity to move to Hong Kong and, six years later, joined Clearwater Bay.
What's been your best ever round?
It would be the 64 I had at Clearwater Bay about four or five years ago. I was playing with three members and had an eagle - after driving the par-4 seventh green and holing the putt - and four birdies. I managed to keep a bogey off the card and I don't think I missed a green. It was just one of those days when everything came together.
Pages
Click here to see the published article.