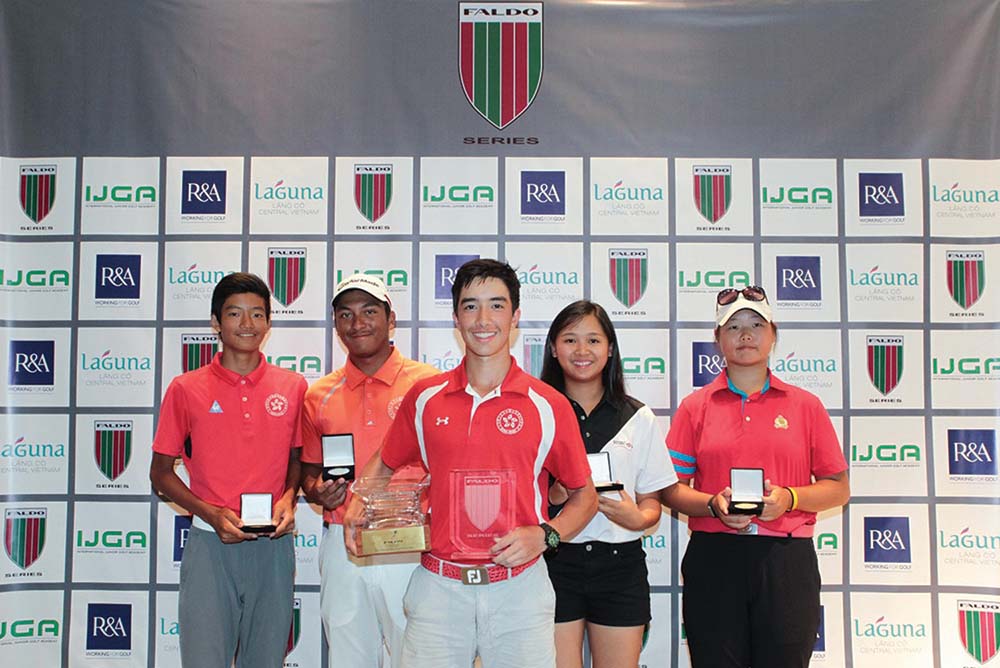 The 16-year-old Artigolle was a model of consistency as he fired rounds of 71, 70 and 71 at the Jockey Club Kau Sai Chau Public Course in what was the seventh leg of the record-breaking 2016-17 Faldo Series Asia season.

His three-day aggregate of 212 gave him a four-stroke success from D'Souza, who closed with a scintillating 64, one of the best rounds ever recorded at Kau Sai Chau's Gary Player-designed North Course.
It was not quite enough, however, to repair the damage that was inflicted by his uncharacteristically error-strewn opening-round 80, during which he felt the effects of a return journey from Palm Springs in the United States where he finished second in his age group at the Future Champions Golf World Championship.
Nonetheless, thanks to that late surge, D'Souza took second place overall and can look forward to flying the flag for Hong Kong in the 11th Faldo Series Asia Grand Final, to be held at Laguna Lang Co in Vietnam next March.
Having topped the standings in the Boys' Under-18 category at the 10th Faldo Series Asia Grand Final at Mission Hills China, D'Souza will now set his sights on mounting a challenge for the overall title.
Joining D'Souza and Artigolle at the award-winning Nick Faldo-designed course in Danang will be Kho Tai-chi (Boys' Under-16 champion), Andrea Au Chor-kiu (Girls' Under-21 champion) and Hu Jing (Girls' Under-16 champion).
Thanks to his Faldo Series win, Hong Kong-born Artigolle, playing off a handicap index of 1.2, is likely to rise into the top-three in the Hong Kong Golf Association's HSBC Junior Order of Merit.
It was the Girls' Under-21 category that provided the closest contest with Au, Deedee Wong Hei-nam and Emily Leung involved in an intriguing three-way tussle.
Wong entered the final round with a five-shot advantage from Leung and a seven-stroke cushion from Au. But while Wong and Leung struggled to rounds of 83 and 80 respectively, Au held her nerve to sign for a 76 and secure victory on a count back.
Faldo Series Hong Kong Championship, leading final scores: 
Boys' Under-21:
212 – Yannick Artigolle (71-70-71). 216 – Leon D'Souza (80-72-64). 219 – Isaac Lam (72-73-74). 
Boys' Under 16:
218 – Kho Tai-chi (75-73-70). 224 – Lou Tan Chi-hin (81-71-72). 246 – Frederic Khounphachansy (85-83-78); Derek Yang (87-79-80). 
Girls' Under-21:
235 – Andrea Au Chor-kiu (79-80-76); Deedee Wong Hei-nam (73-79-83). 237 – Emily Leung (78-79-80).
Girls' Under-16:
229 – Hu Jing (75-77-77). 230 – Zhou Hong-hong (77-76-77). 234 – Inara Diti Sharma (79-76-79).
Click here to see the published article.