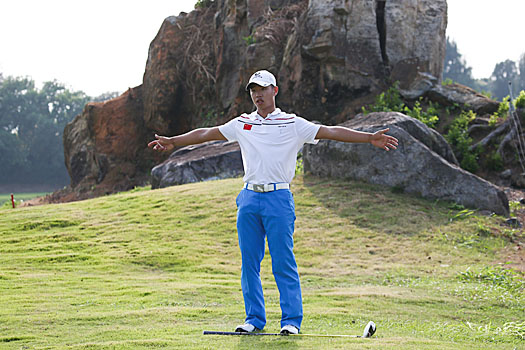 Going out in one of the early groups on Saturday, Murdaca, who hadn't had his best stuff over the first two rounds, showed his class by coming in with a 64 in what could certainly be described as more than breezy conditions. It wasn't going to be enough to win but it was a solid way to end his amateur career. The 20-year-old joined the professional ranks the very next week.
Murdaca had finished at pretty much the same time the leading groups were heading out. Ruffels and compatriot Davis were drawn together in the penultimate pairing, Jin and Ishitoku in the last. The Strong Wind Signal No 3 had been raised earlier that morning, and it was becoming clear why. The flags of the 37 nations and territories represented at the tournament had been hoisted alongside the road that leads up to the clubhouse, and each was fighting a losing battle to stay attached to its respective pole. The wind had picked up very significantly in a very short amount of time. Would Jin, who hits a very high ball, be able to cope with the changing conditions and hold on to his lead? Or would the Australia duo be able to reel him in and breeze past?
As it transpired, it was only Ishitoku who really struggled out of those final four players. The Japanese never looked comfortable and soon shot himself out of contention. The remaining three, however, battled superbly, trading birdies, pars and just the occasional bogey. Jin, who later admitted to having never played in such conditions, wasn't fading away as some journalists, who were tucked up safely in the media centre, had predicted. Ruffels and Davis, clearly in their element, both got off to flying starts and were soon under par for their rounds. But Jin clung on to his lead bravely, making three birdies in the space of four holes before making the turn.
Pages
Click here to see the published article.