Famed Scottish author, Iain Banks, was delighted to discover upon landing in Port Ellen on Islay that the first road sign he encountered was made up one hundred per cent of distillery names: Ardbeg to the right and Bowmore to the left. However, the significance of the distilleries is unremarkable given that this small island is home to eight distilleries: Laphroaig, Lagavulin, Ardbeg, Caol Ila, Bunnahabhain, Bruichladdich, Bowmore and Kilchoman.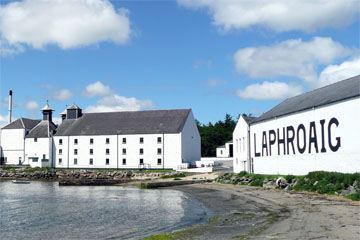 One only has to taste an Islay whisky once to recognize the fundamental influence on the taste. As a vegetarian I appreciate the value of a good vegetable stock and as any encyclopedia will inform you, peat is an accumulation of partially decayed vegetation matter and it is also the primary flavour of all Islay malts. I suppose that, like bird's nest soup, the ingredients are secondary to the flavour.
Last edition I promised an excursion to Islay, and I could devote whole chapters to each of the unique malts of this windswept island. But, editors being the dictatorial types that they are, I am limited to a few hundred words to describe these nectars of the isles. Forced to choose, I shall pay brief but devout homage to only two of them, but I would encourage any lover of malt whisky to devote some time to all of them; something which I promise will be no hardship.
Pages
Click here to see the published article.