New World Wine countries are well known for the cutting edge development of viticulture and vinification which has transformed the industry since the 1960's.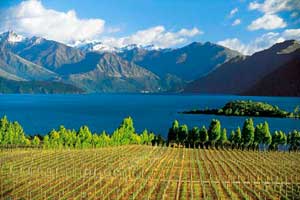 One pioneering country which is still creating shockwaves is New Zealand. With numerous outstanding wine regions, many innovative oenologists and viticulturalists have worked hand- in-hand with some of the most pristine vineyard sites on the planet to create wines which are a true reflection of these highly specialised terroirs.
As with many new world countries, New Zealand has been producing wine for at least 150 years. But it all really started in New Zealand with the first plantings of Sauvignon Blanc Vines in Marlborough in 1973. Marlborough was previously an unknown area producing high yields of poor quality Müller-Thurgau. It is sometimes hard to believe today, but when the first Marlborough vines were planted in the 1970's, few people predicted that the region would become New Zealand's largest and best known winegrowing area, and one of the most significant in the world in little more than 20 years.
The distinctive pungency and zesty fruit flavours of the first Marlborough Sauvignon's captured the imagination of the country's winemakers, and wine drinkers alike and sparked an unparalleled boom in vineyard development. This first leap lead to the worldwide interest in Marlborough wines, which has continued to fuel the regional wine boom throughout the country. The free-draining, alluvial loams over gravelly subsoils in the Wairau and Awatere River valleys provide ideal growing conditions for Sauvignon Blanc, but also yield great results for other cool climate varietals such as Riesling, Gewurztraminer and most significantly Pinot Noir. The abundant sunshine and cool nights coupled with a long growing season provide the perfect conditions to build and maintain the vibrant fruit flavours for which Marlborough is now famous for.
Pages