Being a 'New World' wine producing country, Australia's first vineyards were planted near what is now the Sydney Harbour Bridge in 1788, with the arrival of the First Fleet. Today, 170,000 hectares of vineyards can be found throughout all the designated wine regions.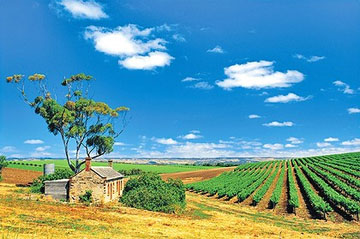 Recent export figures position Australia as the fourth largest exporter of wine, selling to more than 100 countries worldwide and contributing approximately $5.5 billion to the nation's economy. Australia is now a respected leader in combining tradition with new ideas and technical innovation, producing a large variety of wine styles, and some of the most
highly regarded. South Australia is recognised for having many of the best regions within its borders. Along with others such as Barossa Valley, McLaren Vale is by far one of the top wine regions of the country and is known for producing iconic wines.
Dating back to 1838, McLaren Vale was one of the first regions to be planted in the region. There is substantial climatic variation throughout the state, due to varying exposure to the cooling influence of the nearby ocean (or conversely to protect from it). Overall the climate is Mediterranean, where summer rainfall is low. This means site selection and the marriage of site to variety are all-important. There is a wide variety of soil types, which is a reflection of the varied terrain; red-brown sandy loams, grey- brown loamy sands with yellow clay subsoils interspersed with lime, distinctly sandy soils and patches of red or black friable loams are all to be found. McLaren Vale is also widely recognised as one of Australia's "greenest" wine regions because of its ongoing water use efficiency strategies and commitment to environmental sustainability, through the limited use of pesticides. The unique marriage of a wine region and beach lifestyle has created a melting pot for all things culinary, vinous and artistic.
Pages
Click here to see the published article.