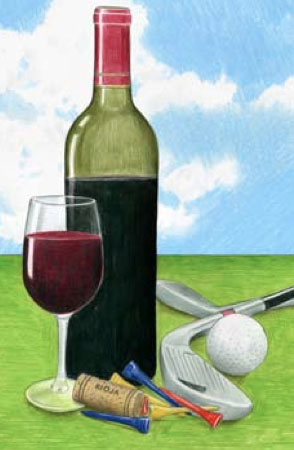 I cannot recall an En Primeur campaign that has caused so much controversy as the 2008 vintage. The annual pilgrimage of producers, buyers, brokers, wine writers and observers has erupted into an emotional and sometimes bitter debate over wines tinged with more than a touch of scandal. Sadly, most of the discussion seems to be focused on the value rather than the quality of the wines. This is regrettable but is an inevitable consequence of the greed and stupidity that was voraciously indulged in by all involved in the past few campaigns.
Briefly, the en primeur system is basically a futures market in wine. Producers show barrel samples of the latest vintage and hopefully garner enough interest from the clamouring traders (negociants) to sell all their produce and thus finance their ongoing activities. Purchasers hope to pick up wines at significant discounts to their eventual market price upon release in bottle, some two years hence. Whilst loyal customers on chateaux lists will get an annual allocation at prices set by the owners, the majority of wines will be bought by negociants who will seek to on sell at a tidy profit to the public.
The market has gathered depth and momentum throughout the decades but now finds itself in a very bad state due to the ridiculous excesses of the past four years. Many buyers have boycotted the 2008 campaign in protest of continual overpricing. It also didn't help that the weather conditions had been particularly uncooperative during the flowering season, leading to rumblings of another disaster like 2007. With prices for that year's vintage plummeting, there was anger at the deals struck 12 months previously. Rumours were rife of many new traders (as well as a few notable ones) being in financial stress and thus potentially not being able to meet obligations. Combined, all these factors placed a very dark cloud over proceedings.
To understand the present we need to examine the past. The new era of wine pricing and investment excess really has its origins in vintage 2000. This was an outstanding year that was sold at very reasonable prices in a world that still differentiated between great, good and average vintages. Buyers recognised that wine is still only wine, and that if you wait 12 months there will be another crop to buy – perhaps not quite as good, perhaps even better, than the last. Also, excellent past vintages were still readily available, so that intelligent, patient buyers could accumulate superb, proven bottles without facing significant premiums. And then madness. In the intervening years, the global investment banking machine had begun to redefine the concept of value, using financial alchemy and complicit ratings agencies to transform assets of questionable qualityinto AAA miracles, thus allowing credit to be available to just about anyone who could put a thumbprint on a loan document. Prices for the almost perfect 2005 vintage boomed, some by over 500 percent, as the adoring public furiously outbid each other to get allocations of this miracle asset class that seemed to reflect more desirably on its owners than any of the other toys in the cupboard. Chateaux owners, negociants, winemakers and wine journalists became rockstars. It was stunningly monstrous and forced many traditional buyers of En Primeur to abandon the market in frustration.
Pages
Click here to see the published article.