Hong Kong Has a Shangri-La
We were invited to a party by the Skipper of the Royal Hong Kong Golf Club, Colonel the Honourable 'Duggie' Clague at his home among the parasol pines near Fanling.
Many golfing, and non-golfing, people sipped and chatted on smooth lawns by the swimming pool. Economist Sir Joseph Lockwood discussed with the Governor how free enterprise has made for the great prosperity of Hong Kong. We were getting into deep water so I reminded Lord Shawcross of a golf story he once told at a '30 Club' dinner in London. Lady Shawcross doesn't play. 'A toast to the other vices,' she said, raising her glass, and we all went indoors to cold salmon, sucking pig and a dozen eastern alternatives all worth coming from England to sample.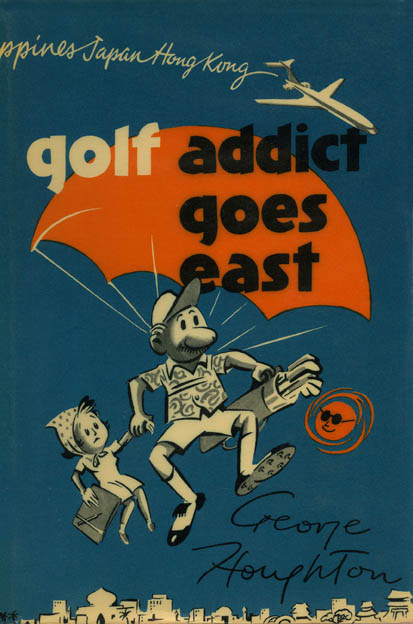 Duggie Clague has a mammoth group of Hong Kong businesses embracing everything from heavy industry to the large- scale manufacture of artificial flowers. He also has a 'London house' on the Sunningdale golf course. During the war he was taken prisoner by the Japanese, escaped, and led guerillas. He was one of the senior officers who took the surrender when the enemy left the island. Once, 'just to take a look see', he returned to Hong Kong Island under the enemy's nose and had a bathe in Deep Water Bay.
With a bathe in mind in addition to golf the Golf Widow and I also went to Deep Water Bay. We had in store the pleasure of hearing a senior professional talking of the old days. Deep Water Bay is six miles from Hong Kong and costs only 8s. in one of the fleet of taxis owned by Chinese golf addict, Mr Choy.
The golf club comes under the banner of Royal Hong Kong and the maestro commanding is Bill Hitchens, a professional golfer since 1910, when he worked in a London club-making factory in East Sheen. After the 1914-18 war Bill became assistant at Richmond Park under J. H. Taylor's brother Josh. Then he came to the Royal Hong Kong club and without much doubt was the first British golf professional to be appointed in the Far East.
No-one in any walk of working life puts in more hours than the old senior golf pros and this applies to Bill. He lives on the Kowloon side of the water and leaves his home at about 6.30 a.m. to be at Deep Water at 8 o'clock. He seldom finishes before 8 o'clock in the evening and rarely takes a day off.
Deep Water Bay is a short, 9 holes course, less than 3,500 yards, twice round. More than once, Bill has done nine consecutive threes. He doesn't claim this as a tremendous golfing feat, but it is a couple of shots inside par and when it happens the lovely valley in which the course is set looks even more beautiful.
High hills, broken only with semi-skyscrapers perched on crags, arise on three sides and the entrance to the glen stretches down to a pleasant sandy beach. During the war, when the Japanese were in occupation, the clubhouse was used as a piggery, and going back further there were wild tigers and grey wolves. A python, eleven feet in length, was caught, stuffed and displayed in the bar. Also, ladies were wearing shorts on the course and I am wondering if this is the first instance of such frivolity in golf.
Deep Water Bay G.C. was always progressive. There was once a caddie-strike and 100 sepoys were sent over from the barracks to relieve difficulties. When the club became completely mechanised in 1927 the labouring water-buffaloes went, but in that year foxes became a nuisance. Also, Bernard Shaw visited the club.
Pages
Click here to see the published article.