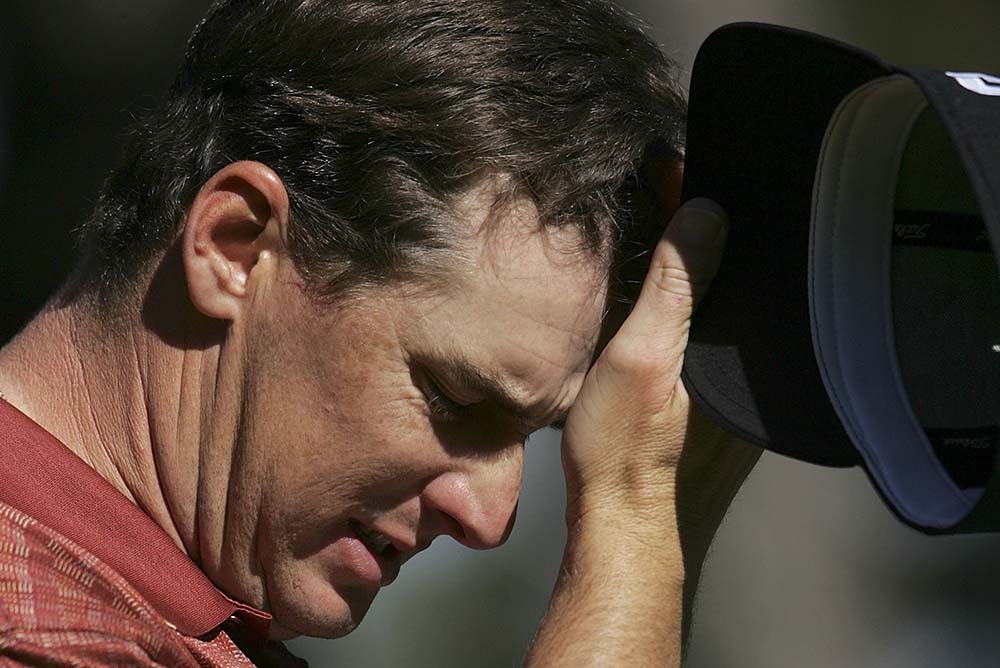 I once caddied for this elderly American chap who was apparently very fit, wealthy and pretty keen on the old game. He handed me a card on the first tee and asked if I would record his score. It was fine, but it became quickly apparent that his card was to be a wonderfully creative work of fiction.

It started on the second when he duffed a chip and merely put another ball down, hit it close and used it. It was primarily a round of ongoing self-given Mulligans. Fair call I thought, and maybe this is how golf should be played? I mean they kind of do that in lawn tennis. But I'm not sure if the Rules bloke at the Royal and Ancient will buy into it.
Things got a bit more colourful on the ninth. He hit a good pitch which went fifteen feet past the pin and onto the small bank just behind the green and stuck there, somehow defying gravity. I said, 'bad luck' and meant it, as in most cases it would have come back down to the hole, which it did! As he walked past the ball, he gave it a delicate and most skilful wee nudge with the outside of his left foot, and it rolled to a few feet.
The ultimate came through on the long par four, twelfth. He had a Mulligan off the tee and found himself in the greenside bunker in 'three'. He had several stabs, attempting to get out of the bunker, and eventually, put it to forty feet and rolled in the putt. His wife turned around and said, 'what was that?' And he remarkably and unashamedly and astonishingly said 'a par'.
He carded an 82.
I caddied for another very successful American gentleman who was some kind of pastor in Pebble Beach as well as something along the lines of a self-help guru, businessman. Well, at least that is what he told me over the first few holes. He had 'written 102 books, had over 20 million followers on Twitter and spoke at conferences around the world making millions'.
He was quite a canny golfer but was manifestly full of himself. However, when he got into a bunker at thirteen, on a downward lie, he merely kicked his ball onto a flat and more favourable position. I suppose that is what he professes as self-help, or am I a bit too cynical? Maybe he has a chapter in one of his books about it. Maybe called 'The Bunker'. Anyway, I shan't be buying one. For that one little act on the golf course had undermined him in my eyes, no matter the millions of Twitter followers or the number of books he had published. Sorry. Not impressed. And I shall not be giving his name away but let's just say a most bitter flavour comes into my mouth when I think of it.
By all accounts, a rather famous and notorious ex-footballer in the American sense, (I mean footballer in the American sense, not notorious), playing in a Pro-Am, seemingly had his ball tee'd up in the rough and on being asked why and how he claimed it landed on it! I wonder how that would stand up to the jury?
Pages
Click here to see the published article.