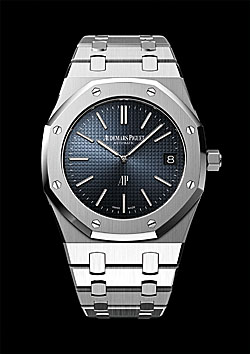 When it comes to the Royal Oak, it's hard not to become a fan. The watch has become such an icon in the realm of sports that it would be impossible not to see one – or a good number of them – at any sporting event. Even without the megawatt rocks rappers like Jay-Z prefer, one can spot that eight-sided bezel a mile away. It's a signature that is so identifiable that the company can probably do away with stamping their logo on the dial. The product range has also expanded much to cater to particular tastes – from ultra-tech to extra slim, discreet to extra chunky – easily observable from the growing number of Audemars Piguet ambassadors, which now include Lionel Messi, Novak Djokovic, LeBron James and a number of world-class golfers.
Who would've thought that in 1972, when the Royal Oak was created, it was considered a risk and completely against everything that Audemars Piguet had designed up until then.
Pages
Click here to see the published article.