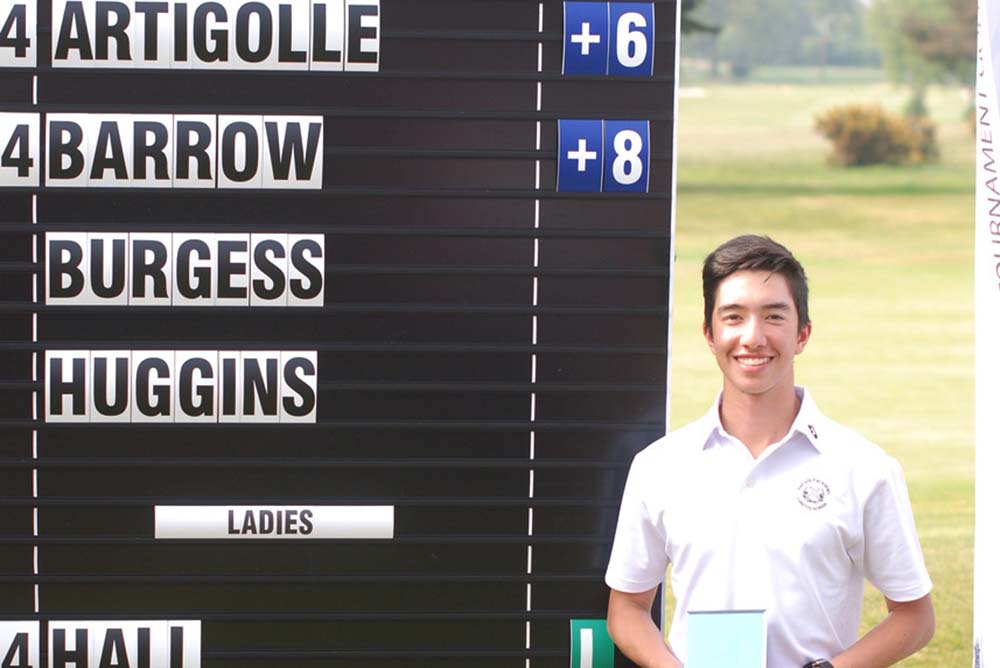 LEEDS, 16 May 2017, (HK Golfer News Wire) - Day one proved to be a test of both skill and endurance as the players completed two rounds in warm and breezy conditions. Yannick and Caroline both got off to good starts both shooting level par in the first round to be placed second in the boys' and girls' categories.

The afternoon saw the wind pick up making scoring conditions tougher, however, Yannick and Caroline both followed up with rounds of 73 and 75 respectively to maintain their position. At the close of day one, Yannick was one shot behind the lead in the boys' event with a two round total of 144 followed by Harry with 156 Lou scoring 167 and Caroline six shots behind the lead on 149.
The final round was played in bright conditions with the wind picking up through the day to challenge the players on the back nine. Lou Tan improved on his day 1 performance with a score of 73 -  one of the best scores of the day - to help him climb up the leader board. Harry also continued to improve with a final round 76. Caroline Zolg struggled with a final round 83 to drop her back to 3rd place but this was still a most creditable tournament finish.
Starting one shot behind the lead, Yannick birdied his opening hole to take a one shot lead after a bogey at the first for the lead. He played steady golf through the front nine, maintaining his lead and narrowly missing a birdie chance on 12 to double his lead. A birdie on 13 saw Yannick back tied for the lead but a well-played 14th saw him regain his one shot advantage with four holes remaining in what was going to be a nervy finish. Another par on 15 maintained Yannick's one shot lead but a hooked approach from the fairway on 16 resulted in a penalty drop and a double bogey. This brought him back into a tie at the top. However, a good tee shot on 17 to the heart of the green and a well-played two putt, earned him a one shot lead playing the last. After a good drive and his approach finding the middle of the green, Yannick had two putts for victory which he was able to do in fine style.
Yannick shot a final round 75 for a +6 total of 219 to take victory and become the Intercollegiate Tour Players' Champion for 2017.