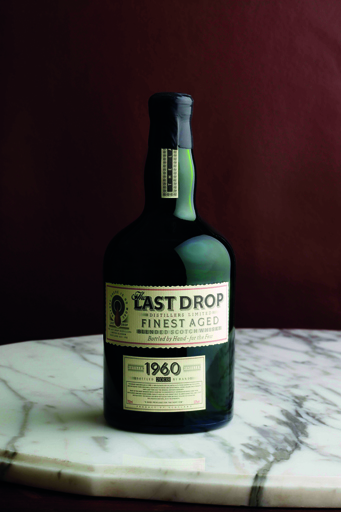 The year 1972 is officially the longest year on record with scientists adding two seconds to the leap year in order to preserve some cosmic balance; a decision that may or may not have had anything to do with the prevalence of hallucinogenic drugs at the time. Perhaps it was all of that extra time on peoples' hands but the extended year played host to many historic moments: G Gordon Liddy's nocturnal escapades brought down a president and the Queen Elizabeth caught fire in our own Victoria Harbour. But for true inspiration we had an unknown blender who created the whisky that is now available, in very limited quantities, as "The Last Drop".
Eighty-two whiskies comprised of 12 grains and 70 malts had been blended in 1972, none of them less than 12-years-old at the time and put into sherry casks. Many of these came from distilleries that no longer exist, with the youngest whisky being from 1960 with some going back to the 1940s. The casks were stored in Auchentoshan cellars near Glasgow and largely forgotten about for 37 years.
At this point, serendipity intervened as a trio of whisky aficionados were in search of old whiskies to create a truly memorable blend. Jason Espey, Tom Jago and Peter Fleck have more than a century's experience in the liquor trade and a history of bringing highly successful products to the market. Tom was the man behind the creation of Bailey's Irish Cream and Peter launched Malibu. James and Tom were also, more encouragingly for whisky lovers, the men behind the launch of Johnny Walker Blue Label (a blend that I am always delighted to sample).
They discovered three barrels of the 1972 mystery blend in the cellars and this led to The Last Drop, of which only 1347 bottles were produced. Eighty-eight of these bottles made it to Hong Kong; most have been sold or, taking the glass half full stance, a few are still available.
Having set off to review an outstanding blend, I now encountered a major hurdle in that, unlike our featured single malts, I had not sampled the Last Drop. Honestly, this would have been the end of this article as I maintained a suspicion, perhaps due to the creamy liqueur connection, that these people were very good marketers and that the whisky might not be all that it was said to be. To my chagrin, the publisher declined my suggestion he purchase the only bottle that is on sale in that Wan Chai institution, the Canny Man, in order to thoroughly review the product. However one should never underestimate the acumen of an ex-banker and he had, to my delight, managed to procure a decent sample.
The blend has received numerous outstanding reviews and our mutual sampling confirmed all that we had read. Indeed, a small but select group of expatriate Scots making so much of so little but paying even less would have led to smirks of justification on the faces of those who remark on our notional national parsimony. The Last Drop requires diluting as it is 52 per cent in strength, neither filtered nor chilled, but a little less than the same again brings out some magnificent flavours. A great nose that pervades the room if it is left in the glass for a few moments leads into sweet and rich tastes that end with more than a hint of spice.
The Last Drop is all that it is claimed to be and is ample reminder that great blends are a magnificent counterpart to the glorious malts that Scotland produces.
HK Golfer is pleased to offer the ultra-rare Last Drop delivered anywhere in Hong Kong. Just write to lastdrop@hkgolfer.com or call (852) 3590 4153 to reserve your bottle.

Click here to see the published article.