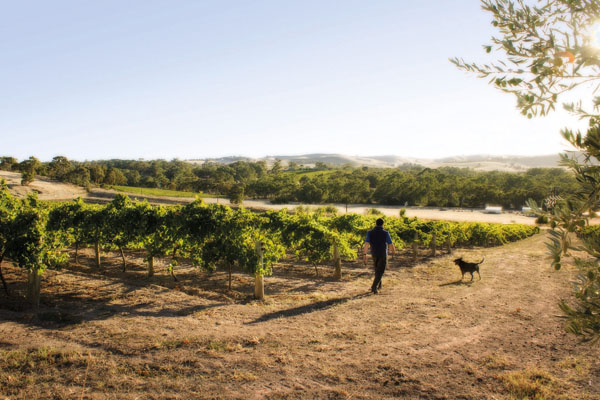 South Australia is pre-eminently Shiraz country. The grape originated in the Northern Rhone, but it was in this highly successful wine region of the southern hemisphere that it began its ascent to its present status as the seventh most extensively cultivated varietal in the world.
It was in the Barossa Valley, about an hour's drive northeast of Adelaide, that Penfolds' chief winemaker Max Schubert created the first Australian red wine made with the intention that it should mature over decades in the bottle – Grange Hermitage, now called simply Grange.
Bordeaux inspired, Grange contains some Cabernet Sauvignon, but is predominantly made from the Syrah Grape.
In the 1950s, when Schubert's first pioneering vintages were made Syrah was associated mostly with the Northern Rhone region called Hermitage, and was accordingly known in some parts of Australia – which for decades to come was to make highly cavalier use of now legally protected French appellation names – as Hermitage.
It is now much better known in Australia and around the world as Shiraz – a corruption of the French grape name which has become so internationally recognizable that some French wineries now use the Australian spelling.
Many of Australia's greatest reds are Shiraz based, and the grape is particularly suited to the Barossa Valley, where it was first planted in around 1860, and to McLaren Vale, south of Adelaide.
Two Hands wines, founded in 1999, is a relative newcomer to the region, but in a little over a decade has built up an impressive reputation.
The enterprise appears to have been founded on an obsession with Shiraz. The original partners Michael Twelftree and Richard Mintz started out with the stated intention "to make the best possible Shiraz-based wines from prized Shiraz growing regions throughout Australia".
Pages