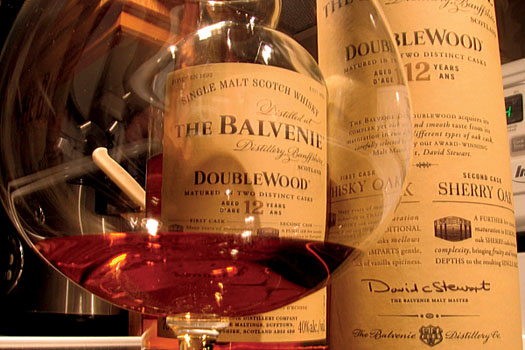 As many of us have come to realise, certain habits and routines become comfortable as one gets older. Maybe it's my protestant work ethic, but for me, Sunday is almost always alcohol free as toiling looms, Monday and Tuesday welcome abstinence as the companion of the attrition of the workplace; Wednesday just swings the balance and Thursday invites appreciation of liquid leisure – hopefully of a fine single malt variety that promises much, occasionally fulfilled, for the weekend.
I shall hasten to explain that in September I received an invitation to a tasting hosted by Dr Samuel Simmons, brand ambassador of The Balvenie. Excited as I was by the opportunity to sample some fine expressions from this family-owned distillery, I was somewhat aghast to learn that the invitation specified 3pm on a Monday afternoon at the Angel's Share on Wyndham Street. Angels are obviously immune to the tyranny of employment, as indeed is my publisher who readily agreed to join me on this untimely appreciation of one of Dufftown's finest products.
Just down the road from Glenfiddich and in the same ownership of William Grant & Sons Ltd, this distillery eschews modernity to a great extent and produces a fine variety of expressions – from their core 12 years old Doublewood, through to the recently released and immensely scarce 50 year old. Indeed, Dr Simmons describes The Balvenie as "the finest example of handcrafted, 19th century Scotch whisky-making in the 21st century".
I proceeded to my Monday tasting and duly turned up at the Angel's Share with an eager palate and an open mind. As compromises go, it was a particularly rewarding one. Four expressions of The Balvenie were on offer: The 12 year old Doublewood, the 15 year old Single Barrel malt, the 21 year old Portwood and the Balvenie 30 year old were more than liberally poured and distributed around the tables.
Pages
Click here to see the published article.