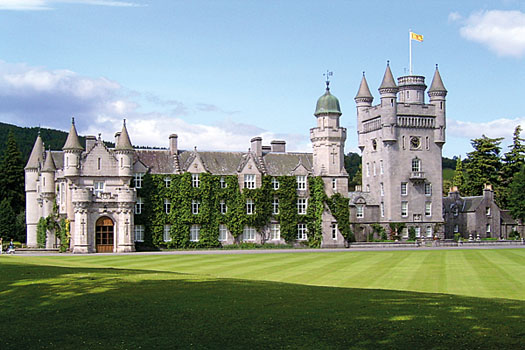 In 1848, while most of Europe and much of Latin America experienced uprisings in what became known as the Year of Revolution, Queen Victoria decided that it might be amusing to have a place in which to while away her holiday time. In search of this wee "but and ben", the Royal party arrived on Deeside in Aberdeenshire and happened upon Balmoral Castle. Having deemed the property "small but pretty", Victoria ordered for Balmoral to be rebuilt to rather more satisfactory dimensions and set about meeting the locals. The great Queen's foresight in engaging with her populace ensured she avoided the fate of the rather more stand-offish second home owners of the following century. "Come home to a real fire – buy a holiday home in Wales," went the joke from the 1970s, a play on British Coal's television adverts at a time when Welsh nationalists were taking particular umbrage to the English penchant for snapping up country cottages.
Like many present day holidaymakers, the monarchs thought it necessary to find a place for a wee tipple and fortunately enough, Lochnagar Distillery happened to be less than a mile from the castle. John Begg, the distillery owner, demonstrating fine Scottish opportunism, had invited Prince Albert to visit, ostensibly due to the consort's interest in all things mechanical. Apparently there was also great interest in lubrication as Victoria, Albert and their three eldest children arrived the next day. A Royal Warrant of Appointment as supplier to the Queen swiftly followed and Royal Lochnagar was to be a very successful distillery for many years.
As with most of the Scottish distilleries, ownership changed as the industry flourished and waned but today the distillery is owned by Diageo, the global drinks company. The vast majority of the output from the distillery is utilized by Diageo in the production of their market dominating Johnny Walker Black and Johnny Walker Blue deluxe blended whiskies and, as the distillery is one of the smallest in Scotland, this means that no great amounts of the single malt itself are available. The distillery markets only three expressions and the 12 year old core expression is a great example of a highland malt. Traditional production values, fine spring water and carefully selected barley have produced a typically smooth, indeed sweet highland malt.
Single malt whisky is a marvellous success story and much of that success is due to the careful control of quality and entitlement to the name, as well as the exponential growth in demand for something that is limited in supply. The boutique bottlers have been referred to before and they have found a particularly profitable but entirely beneficial niche in the industry. On the way back from a recent trip to Scotland I was looking for something new to sample and happened upon the Old Malt Cask Royal Lochnagar 14 year old, which Douglas Laing has put out as its Diamond Jubilee commemorative malt.
Pages