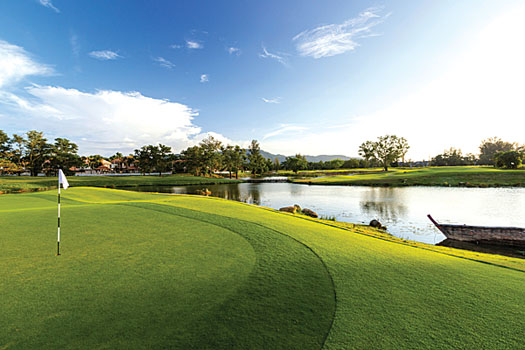 Not a whole lot has happened golf wise in Phuket in recent years. Save for the opening of Phunaka, a nine-hole, floodlit track located between Phuket Town, the island's historic capital, and Patong, the sprawling seaside resort favoured - it seems - by heavily-tattooed Russians (although the sudden decline of the Rouble may change all that), the last course to make any real noise was Red Mountain Golf Club, which wowed all and sundry with its dramatic elevation changes and spectacular views upon its completion in 2007.
There's no denying that Red Mountain is a heck of a golfing experience - and at over 7,000 Baht (roughly HK$1,650) for the green fee, caddie fee and mandatory golf cart fee, it jolly well should be - but it's perhaps not for everyone. It's not that Red Mountain is an unfairly difficult course. It's isn't. But there are certainly a number of holes where the jungle encroaches close enough to the landing areas to have you worrying about the number of golf balls left in your bag.
No such concerns await a few miles to the northwest at Laguna Phuket Golf Club, which reopened its full 18 holes to much fanfare last month following a highly impressive redesign masterminded by South African architect Paul Jansen.
Jansen, as regular readers of HK Golfer will know, contributes a monthly column on course design to this publication and was the lead architect for Faldo Design at the award-winning Laguna Lang Co near Danang in Vietnam. Brought in by the same owners on the back of that success to reinvigorate their popular course in Phuket, Laguna Phuket is Jansen's first solo project, one that will undoubtedly build his reputation within the industry globally such is its quality.
Pages
Click here to see the published article.