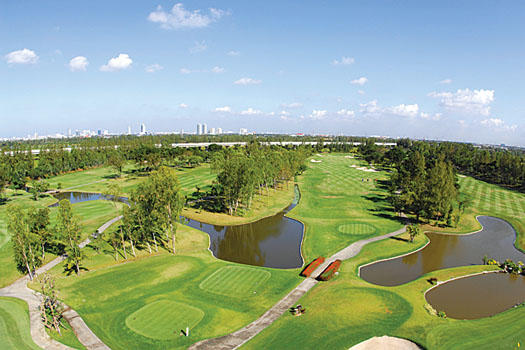 Avid golfers who travel within Asia on business or pleasure have a common dilemma: where to play golf when they have a day two to spare? And even if you're so inclined, is it worth the hassle?
Fortunately for visitors to Bangkok, playing golf is definitely worth the effort. On all sides of the city there is oodles of choice. Indeed, for those of us in Hong Kong who habitually work long hours and lack club membership, Thailand – and Bangkok in particular – has become almost an automatic destination choice. Here you can play exotic beautifully-groomed courses inexpensively (compared to mainland China), hire quality clubs (if you haven't brought your own) and enjoy the benefits of attentive caddies. Getting there couldn't be easier either. With nearly two dozen direct flights operating between Chek Lap Kok and Bangkok daily, you're far from restricted as far as travel timings are concerned. It really comes as little surprise to learn that the kingdom is the world's fastest-growing tourism destination.
Thanks to the Thai golf boom of the 1990s and the opening of a slew of decent tracks in rather more recent times, Bangkok is almost saturated with courses – and by and large they have one thing in common: pancake-flat terrain. If you're hoping for sweeping vistas and dramatic shifts in elevation then you're better off heading three hours south to the resort town of Hua Hin, which is home to a number of first-rate courses in its own right.
As a result, the capital's clubs and resorts work hard on impressing golfers with their strategic design, their excellent conditioning, well-appointed clubhouses and superior service.
Pages
Click here to see the published article.