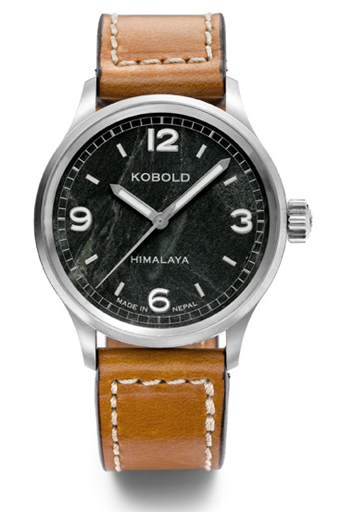 When watchmaker Michael Kobold and his eponymous watch company's brand ambassador, explorer Sir Ranulph Fiennes, set out to reach the summit of Mount Everest, little did they know that their expedition would be the impetus for the first watches made in Nepal.
The two reached the summit in May 2009 and almost three years later the Kobold Watch Company is introducing its first series of "Made in Nepal mechanical wristwatches". As if this weren't novel enough, Kobold and his team developed a most unique timekeeper by incorporating a piece of Everest summit rock into one of the watch models.
Kobold's Himalaya Everest Edition features a 7mm thick dial made from rock the two adventurers collected at the summit. It would take a German specialty firm almost two years to cut, polish and shape the rock in a way that would preserve its physical integrity – no easy feat when dealing with a specimen made up of layers of slate and sandstone. The result is a stunning conversation piece that has no equals. Each dial is unique and exhibits the various characteristics found inside the rock.
For sportsmen and businessmen alike, the provenance and symbolism of the Kobold Himalaya Everest Edition makes it an instant collectible. "You don't have to climb Mount Everest to wear this watch," explains Kobold, adding, "with this watch you can celebrate a major achievement in a totally different field, for instance a successful closing of significant proportions."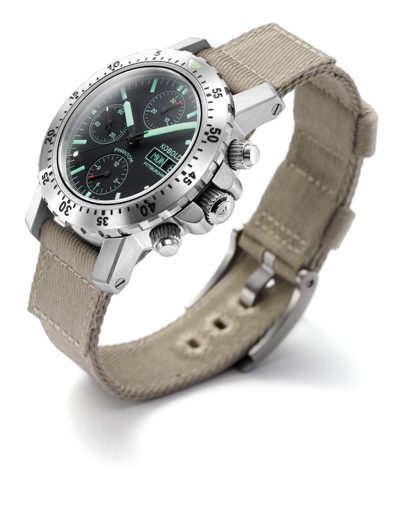 Watch aficionados likely know of the Pittsburgh, USA-based Kobold Watch Company's reputation for adventure watches, but outside this exclusive circle, the small independent watch company is little known. At the tender age of 19, Kobold founded his namesake company while a college student. Before then, Kobold had been mentored by famed master watchmaker Gerd-R. Lang, the founder of Chronoswiss watches. Armed with his lifetime savings of US$5,000, Kobold set out to make his mark in the watch world.
"They told me that I'm dyslexic and not much good at university, so I decided to do something on the side that was fun and that I excelled at, and that was watchmaking," explains the 33-year-old entrepreneur.
Fourteen years later, his company has made watches for astronauts, test pilots, deep sea divers and US Navy SEALs, to name just a few of the hard-core professionals who sport Kobold watches. In fact, the elite Navy SEALs helped design one of Kobold's most popular watches, the Phantom Chronograph. It was the Navy SEAL Fund, a charity that supports injured SEALs and their families, that Kobold and Fiennes climbed Everest for in 2009. And this is where the circle closes for Kobold.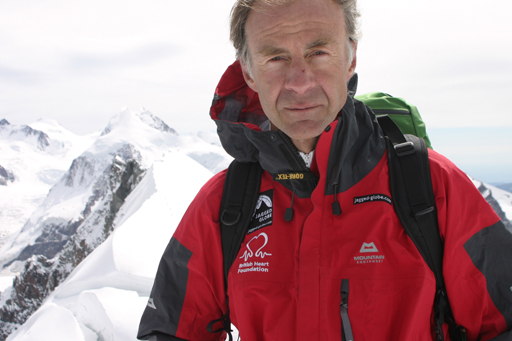 The legendary explorer Ranulph Fiennes had this to say about his young sidekick's idea to make an Everest rock watch: "If you fly into Geneva airport, you see all these watch ads.
Mike has to try very hard to make his watches stand out. And with the Everest watch, he did just that."
We agree.
KOBOLD is represented in Hong Kong by SinoGo. For more information, contact info@sinogo.com; www.sinogo.com
Click here to see the published article.