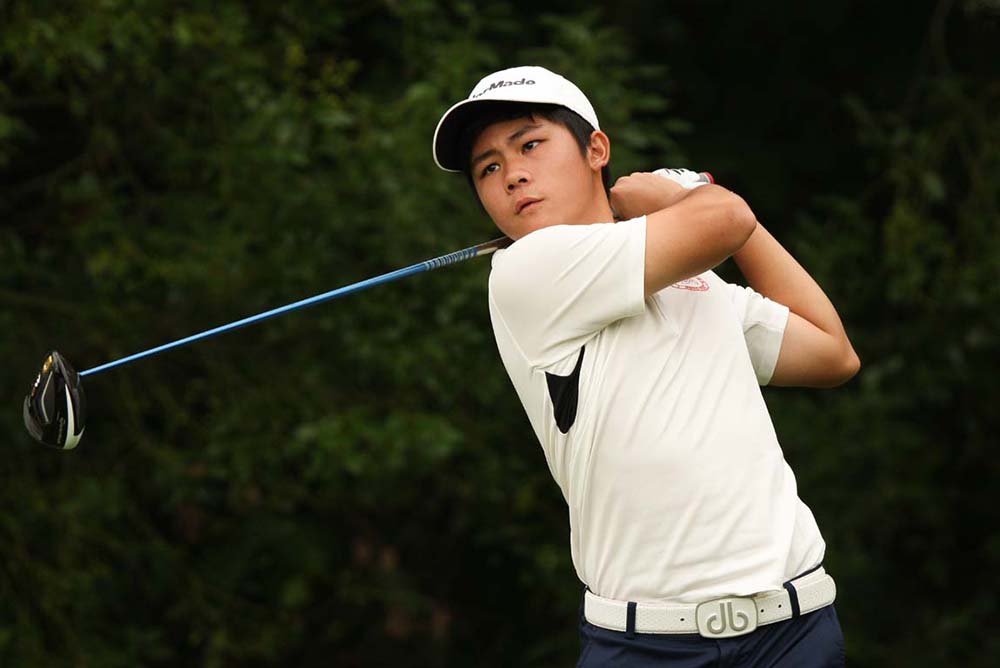 HONG KONG, 31 Oct 2016, (HK Golfer News Wire) - Malaysia's Muhammad Arie Fauzi (68), Ireland's Brian O'Donovan (69), Americans Tom Johnson (69) and Alvin Cheung (71), and Hong Kong-based Australian Nathan Goulding (71) joined Sapp in automatically securing their spots among the 10 qualifiers.

Yue, 16, and Lam, 17, both shot 72 to join an eight-way playoff to decide the final four spots in the 120-player field who will tee off on Thursday.
After starting with the unusual sight of an eight-ball on hole 10, the sudden-death playoff was down to six players by hole 12, which the two Hong Kong junior representatives and Chinese amateur Xing Yixin parred to progress.
Thai pro Komsith Huachai was the last to qualify after emerging triumphant among the remaining three players on the 14th, his 23rd hole of a hot day.
Yue, who last month qualified for the Hong Kong Open in December, was visibly excited after enduring a long, nervous wait before realising he would be in the third playoff of his young career.
"I feel so grateful, so happy to qualify. This was the most exciting playoff I've been in. I was win one, lose one coming into this," Yue said.
"This will be the biggest event I've ever played in until I play in the Hong Kong Open. I used to play at Clearwater Bay a lot when I was younger, but not as much recently."
Sapp, 30, has played in seven PGA TOUR China Series events this year and made sure he'll play eight with six birdies and one bogey on the tight, hilly peninsula layout.
"I'm a little bit surprised with the score because we had our first baby two weeks ago, Cora, so I've been focused on that and not really playing a whole lot," Sapp said.
"I was playing really good golf before that and won the Long Beach Open in California. There has now been at least a month where I was just practising or doing baby duties. It has been fun and a little bit of motivation to come out and play some good golf."
Australian Grant Gibson just missed the playoff after a 73 but was given the host venue's final sponsor invite as the leading player among the four club pros competing in the 52-man qualifier.
The main field is headed by China No. 2 Dou Zecheng, a four-time winner on this year's Tour and the Order of Merit leader, second-placed American Charlie Saxon, Hong Kong No. 1 Jason Hak and Chinese legend Zhang Lianwei.