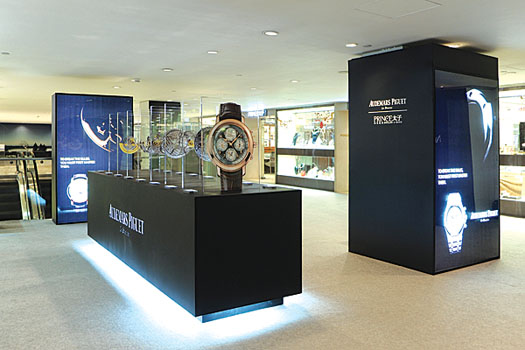 Renowned luxury Swiss watch manufacturer Audemars Piguet collaborated with Prince Jewellery & Watch to organise an Haute Horlogerie exhibition at Ocean Centre in Harbour City last month. The exhibition was open to the public and took place from 2 February to 1 March. Over 30 Audemars Piguet timepieces were especially selected to be displayed at the exhibition, including Grande Complications as well as the latest models from various Audemars Piguet collections. Visitors also had the exclusive opportunity to take a closer look at the traditional watchmaking craftsmanship and virtuoso heritage of the Manufacture in Le Brassus.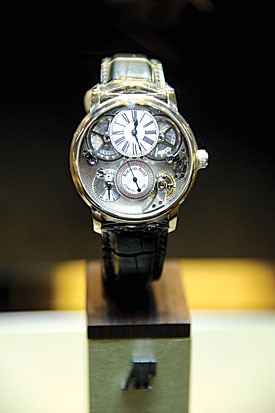 David von Gunten, CEO of Audemars Piguet Hong Kong & China, commented, "Prince and Audemars Piguet have developed a strong partnership and synergy over the years. We are excited to once again join hands to organize this Haute Horlogerie exhibition, which perfectly showcases the excellence and exclusivity of Audemars Piguet."
In order to illustrate and accentuate the exceptional craftsmanship of Audemars Piguet, a disassembled Calibre 2885 structure was displayed at the exhibition to offer guests an immersion into the spectacular complexity of Haute Horlogerie and even more so of the Grandes Complications, for which La Vallée de Joux is world famous. The enlarged images clearly demonstrate the intricate structure and sophisticated craftsmanship of this impressive Grande Complication movement. Comprising of no less than 648 parts, several Grande Complications functions, such as the perpetual calendar, minute repeater and split-seconds chronograph are fitted inside this movement that measures a mere 8.55cm in thickness. Each of them is finished, decorated and assembled by a single watchmaker who dedicates six months of patience and artistry.
Click here to see the published article.