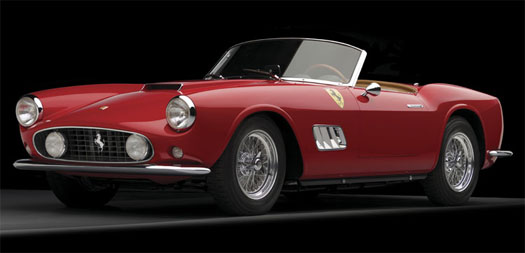 Perhaps the greatest star in the car galaxy is the Ferrari. The Italian über-brand has an incredible history both on the road and on the track, which continues to live on to this day.
Enzo Ferrari (1898 – 1988) was an extraordinary man with an amazing history of his own. He raced cars for Alfa Romeo and set up his own team in 1929. His successes were many and at the end of the war in 1945, Enzo started designing the first Ferrari. March 12, 1947 saw the V12-engined Ferrari 125 S taken out on its first test drive.
The 125 S was an immediate and unqualified success. Ferrari won its first Mille Miglia in 1948, which was soon followed by victory in the Le Mans 24 Hour Race the following year. With Alberto Ascari in the driver's seat, the marque won back-to- back Formula One World Championship titles in 1952 and 1953.
Ferrari built great cars and had unprecedented success on the track in F1. Following Ascari, Juan Manuel Fangio (1956), Mike Hawthorn (1958), Phil Hill (1961) and John Surtees (1964) all tasted championship victory. These triumphs on the track spilt over to the road cars.
The list of great cars produced by Ferrari is too long to catalogue here. Whatever classic Ferrari one might be lucky enough to own will bring tremendous driver satisfaction and social kudos. Mention must be made however of the legendary 250GT, which was launched in 1955 and which appeared in various guises until 1963. This car played a key role in the history of Ferrari for its competition record and acclaimed commercial success. The 275 model is another highly desirable Ferrari for the serious collector.
Pages
Click here to see the published article.