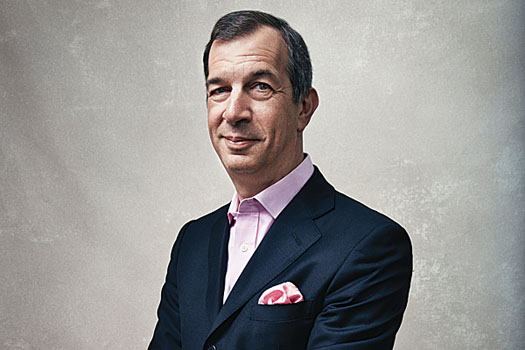 At the helm of Piaget since 1999, Philippe Leopold-Metzger has been behind the company's impressive growth and recognition in Asia, especially China. Since becoming CEO, he has pursued an integrated approach, underlining the importance of being great at both jewellery and watchmaking.
Born in New York in 1954, Leopold-Metzger finished his MBA at Kellog School of Management in Chicago before he joined Cartier Paris in 1981. He held significant roles in the company, including president of Cartier Canada, before moving to Piaget in 1992.
He's credited with realigning the brand's collections to present a more trendsetting and dynamic profile, which lead to the opening of Piaget's Manufacture de Haute Horlogerie in Plane-les-Ouates, Geneva, in 2001. Under his leadership, the company developed a highly selective network of boutiques, several successful product launches and an impressive following. As a result, Piaget has grown rapidly, with turnover multiplying tenfold in as many years.
Off hours, Leopold-Metzger loves to travel and is a keen golfer, spending much of his down time at his favourite courses. He tells us more during a recent visit to Hong Kong, where Piaget's best pieces were on show at the first Watches & Wonders.
What is the significance of Watches & Wonders for Piaget?
SIHH is mostly a professional event for selling new products to our retailer's network and presenting them to the press, while Watches & Wonders is an event organised to showcase and promote the extraordinary work of High Watchmaking to a very wide target of watch lovers, as well as press, retailers and their staff.
With Asia representing a big part of the luxury business, this event is a formidable opportunity for us to bring part of our manufacture to Asia.
What is the company's current focus?
The House of Piaget is entirely dedicated to perpetuating and enriching its watchmaking and jewellery know-how, which serve as guarantees of the originality and quality of its creations.
We assiduously develop these two areas of expertise, which we unite under a signature that has no equal in the world of luxury. The advantage of being a jeweller-watchmaker is to be able to produce true masterpiece of its own, representing a perfect expression of the two fields of skills.
You've launched the Emperador Coussin ultra-thin minute repeater this year, do you intend to expand the line?
Ultra-thin watchmaking will remain the core of the Piaget DNA and we will doubtless focus on developing Grande Complication models that we don't yet have. The key dates in our history are clearly 1957 and 1959 when Piaget introduced the thinnest manual and automatic movements. Technique was at the service of design, and the thinness of the movements allowed Piaget to design extraordinary watches, very creative but always elegant.
We intend to make ultra-thin a constant source of amazement, though this will never distract from the elegance that we impose on all our creations. Technique must benefit design. Yes we do have a number of records to our name but this isn't an objective in itself. To take the example of our Minute Repeater, had we been forced to choose between thinness and the clarity of the chimes, we would not have hesitated a single second; the latter would have taken precedence over the former.
When it comes to playing golf, what models would you recommend?
I could play with this (points to the Altiplano skeleton watch he's wearing) but the best would be the Piaget Polo Forty-Five, a very sporty 45mm titanium watch with a rubber strap, which we have in a flyback chronograph with dual time zone.
What is your handicap? Favourite courses?
My handicap is 16.4. I play mostly near my house in Cologny at the Golf Club de Genève. I love mountain courses in Crans sur Sierre and Chamonix. Two other courses I love are Troon in Scotland and Pebble Beach in California.
If you can be known for one thing you've done as the CEO of Piaget, what would it be and why?
It has been almost 14 years I have had the privilege to manage Piaget. It is gratifying to see that strategies to build a brand with a long-term vision are working, and that we have been able to grow significantly while keeping our exclusive positioning.
My greatest pride is to have been able to reposition Piaget as a significant player in Haute Horlogerie as it deserves to be, and to have Piaget recognised today as the Master of Ultra-thin.
Click here to see the published article.