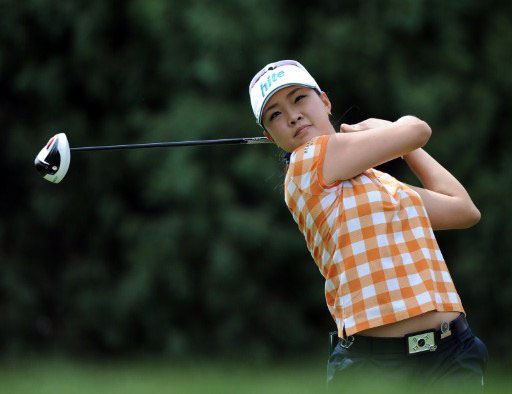 COLORADO SPRINGS, July 11, 2011 (AFP) - South Korea's Seo Hee-Kyung fired a pair of three-under 68s Sunday to take a one-stroke lead in the US Women's Open which was halted by darkness.
Seo's closing 68 moved her to three-under 281 and she has a slight lead over compatriot Ryu So-Yeon who had three holes to play when darkness on the Broadmoor course cut her fourth round short.
American Cristie Kerr was another shot back with two holes left. Ai Miyazato and Mika Miyazato (not related) were both six strokes back with five holes left as 10 of the top 16 players are from Asia.
Rain delayed play for the fourth time in four days Sunday and left 28 players still on the course, three of whom are still in range of leader Seo. Sunday's delay totalled two hours, 37 minutes.
Seo, who turned 25 on Friday, is not losing sleep thinking about which of the remaining players can catch her when play resumes Monday morning.
"I can sleep very well, so I don't worry about that," she said.
Seo, who won last season at La Costa where she got in on a sponsor's exemption, is looking for her first major victory. She got into this event by winning a US Open qualifier in New Jersey earlier this year.
Seo got hot early Sunday making four straight birdies to close out the front nine of her fourth round at five-under 31.
She gave one shot back on No. 10 and teed off down the fairway on 11 when the warning siren sounded clearing the players off the course.
She was one of the lucky ones returning just in time to get her final eight holes in.