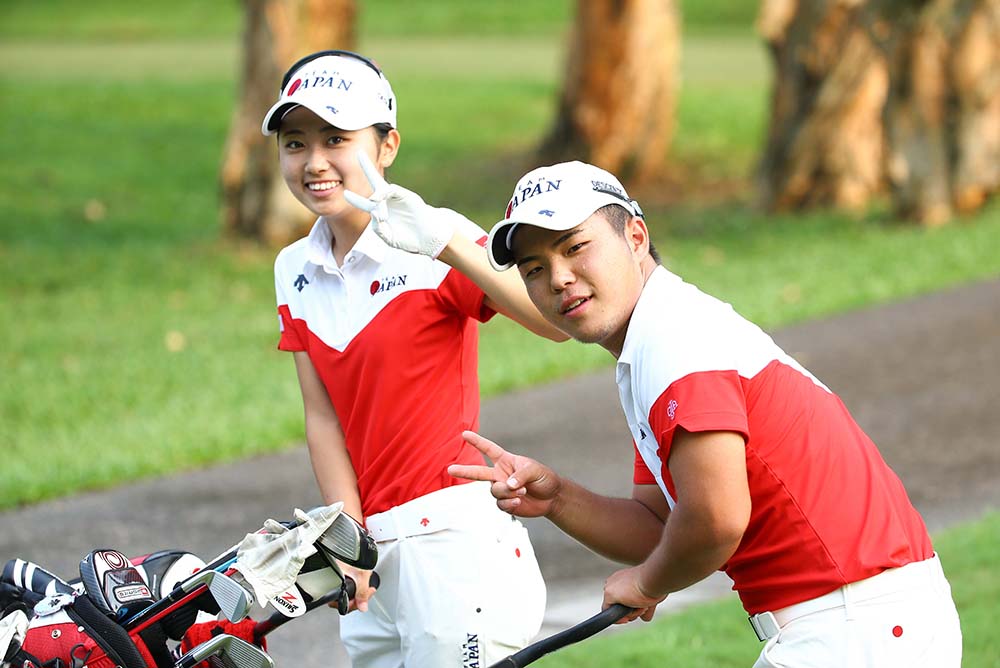 HONG KONG, 1 September 2017, (HK Golfer News Wire) - Japan has won the Asia-Pacific Golf Confederation Junior Championship Mitsubishi Corporation Cup 2017. Yuki Ikeda and Yuka Yasuda, representing Japan Team 2, competed their individual rounds by each carding a 66 for a total 263, 17-under-par for the week, to win by seven strokes.

Australia Team 1, consisting Jed Morgan and Grace Kim, took the runner-up spot, while two teams were tied in third place – Kwon Seo-yun and Oh Seung-hyun of Korea Team 1, and Keita Nakajima and Yuri Yoshida of Japan Team 1 – each with a total score 276, 4-under-par.
16-year-old Yasuda said:
"We are thrilled to have won the Asia Pacific Golf Confederation Junior Championship Mitsubishi Corporation Cup. We partnered really well this week, and tried very hard to make sure we didn't make too many silly mistakes. We managed to do it and are very excited."
17-year-old Ikeda added:
"The weather was a bit unpredictable this week, but Japan is not much different this time of year so we were not too put off by the conditions the last few days."
Hong Kong Team 1, represented by Taichi Kho and Chloe Chan Cheuk-yee, was the best placed local team. With each scoring a two-over-par 72 in the individual round today, the duo finished in a respectable eighth place overall, carving out a total score 1-under-par 279 total.
Chan commented:
"I am satisfied with my performance today and this week overall. I was a little unlucky with a few putts today, but to finish inside the top 10 in the individual round against the players in this field, I am very pleased. I have learnt a lot from Taichi this week, who gave me advice on the choice of clubs for different situations, and if I get to pair with him again next year, I will be very happy."
In addition to vying for the honour of Asia-Pacific's best, there was an additional incentive for the region's young talents to compete well on the final day of the 2017 competition. The leading male and female player from the individual round will receive a playing spot in the Asia-Pacific Open Golf Diamond Cup 2017 in Japan and the 2018 Korea Women's Open in June respectively.
Carding a round of 65 that featured six birdies, 15-year-old Si Ngai of Macau was the standout at the Hong Kong Golf Club in Fanling and will take his spot in Japan in four weeks while Jeong Yun-ji of Korea received her ticket to Korea after being declared the leader of the girls' individual round on countback. Like Si, she also completed the course in a five-under 65.
The 2017 APGC Junior Championship Mitsubishi Corporate Cup fields 76 of the top juniors in 38 teams representing 20 countries and territories across 40 members of APGC. It follows the Youth Olympic Games format, pairing a junior male and female player in each team.
Established in 2015, South Korea has won the team championship in the first two editions of this prestigious tournament, one of the main highlights on the APGC annual calendar.