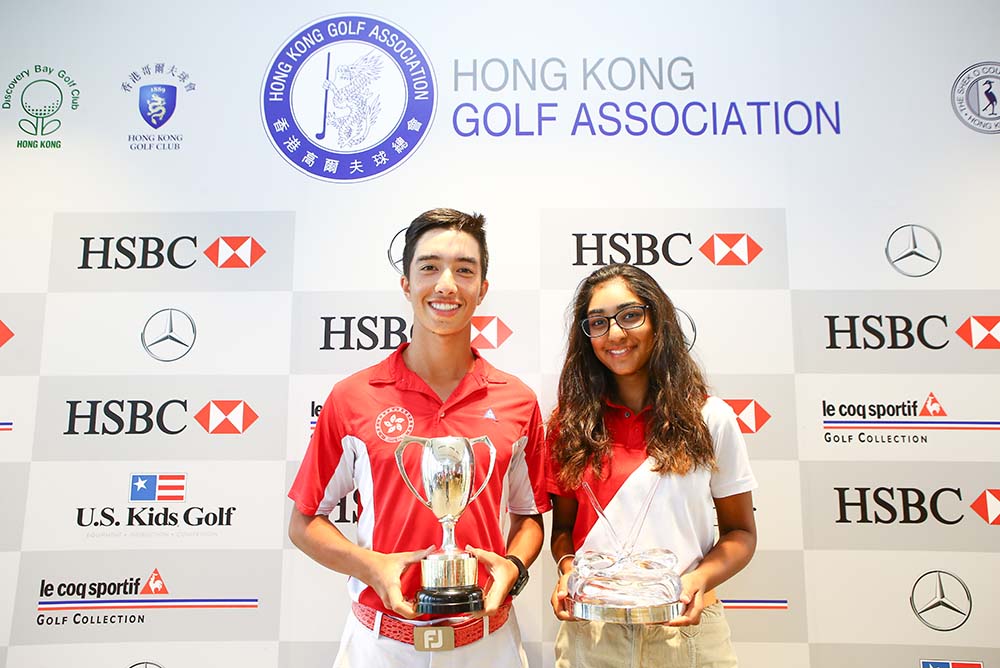 HONG KONG, 21 August 2017, (HK Golfer News Wire) - As the leading local player, Artigolle will also experience the World Golf Championship-HSBC Champions in Shanghai later this year, courtesy of the Hong Kong Golf Association's Exclusive Banking Partner, HSBC.

The 17-year-old was at second place when he tee-off with Taichi Kho, the overnight leader and defending champion, for the final round. Kho shot an impressive 66 in the second round to have a 2-stroke advantage. However, the final day saw the wind pick up making scoring condition at Clearwater Bay a lot tougher.
"The fact that I go to school in Scotland (Loretto Golf Academy) is basically always windy there. It did help a lot," Artigolle said, "I played against instead of with the wind to make the ball staying straighter. I just went for the middle of the green and made shots that I know how to play. I think that was the key to success."
Artigolle finished with a total of 205 to take victory. And this is his second champion in two weeks – he defended his Faldo Series Hong Kong Championship title at Kau Sai Chau in late July. The 17-year-old also became the Intercollegiate Tour Players' Champion in United Kingdom back in May and qualified for the UK National Finals at the historic Moortown Golf Club near Leeds.
Artigolle topped a field that featured 82 junior golfers, 24 of whom were from overseas.  The 48th edition of the championship also featured on the World Amateur Golf Rankings.
Hong Kong's Inara Sharma was crowned girls' champion, finishing with a final round 72 for a total of 215. She will join Artigolle for the final two days of the World Golf Championship-HSBC Champions at Sheshan International Golf Club on October 28 and 29.  There they will get an inside-the-ropes look at how a World Golf Championship event is staged and be treated to a coaching clinic with one of the world's top golfers.
On the Monday following the final round they will then have the opportunity to play on the tournament course in a match against their peers from the CGA-HSBC China Junior Golf Programme. The HKGA team won the inaugural edition of the match in 2015.
The younger aged group (7-10) of the Hong Kong Junior Open Championship took place at Hong Kong Golf Club Deepwater Bay last Monday. Cyril Leung claimed the Boy's 9-10 division with scores of 63 points, while Zoie Chan won the Girl's same age group with 69. Jamie Lee and Leung Hei-tung claimed the Boy's and Girl's 7-8 division with 74 and 103 respectively.
Leading final scores:
Overall boys: 205 – Yannick Artigolle (HKG) 71-68-66; 209 - Taichi Kho (HKG) 71-66-72; 215 – Yue Yin-ho (HKG) 76-67-72; 217 – Alex Zhuo (HKG) 73-71-73; 219 – Issac Lam (HKG) 79-73-67; 220 – Chou Po-yueh (TPE) 71-76-73; 221 –Brandon Han (SGP) 81-71-69; 223 – Kaito Kitazoe (JPN) 72-78-83. 
Overall girls: 215 – Inara Sharma (HKG) 74-69-72; 218 – Chloe Chan (HKG) 70-76-72; 220 - Jing Hu (HKG) 72-75-73; 221 – Virginie Ding (HKG) 75-76-70, Selina Li (HKG) 75-74-72, Cheng Hsiang-hua (TPE) 72-77-72, Stephanie Wong (HKG) 71-73-77; 226 – Chou Yi-ting (TPE) 72-75-79.