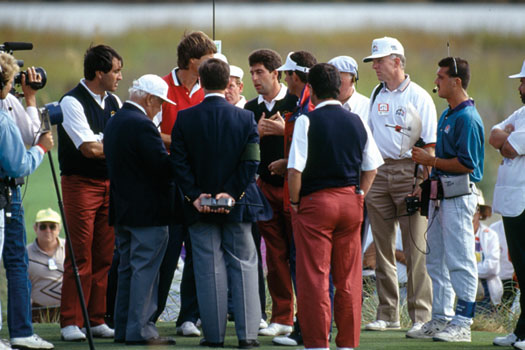 Everyone who saw the 1991 Ryder Cup remembers it vividly. This might sound like a rather obvious question but what was your inspiration behind the book?
The idea to write the book came across by dull brains when I learned that the 2012 PGA Championship was going to the Ocean Course at Kiawah, which had only hosted one other notable tournament – the 1991 Ryder Cup, which was so emotional and so dramatic. It may be the most nerve-wracking event ever. But there's more to it. In my former life as a golf pro I worked at a place relatively near the Ocean Course. I was a aware of the resort since its opening and had played the course a number of times. It was a place deeply rooted in my consciousness. I'm very fond of it.
It was a controversial yet enthralling event to watch. Why made this particular Ryder Cup so different?
It was the perfect storm – gosh, does anyone use that phrase these days? [Laughs] But it was the perfect storm of pressure on these guys, the reputations that were at stake; the timing of the event coming soon after the Gulf War had ended. But the overriding thing is so simple: the US had started to lose this thing that it had always won. Europe, which had been clobbered through the decades, were starting to dominate. They won in 1985 and then won for the first time on American soil in 1987. The teams tied in 1989 but Europe retained the trophy. The US hadn't had their hands on the Cup since 1983. The desire to win it back was overwhelming.
Pages
Click here to see the published article.