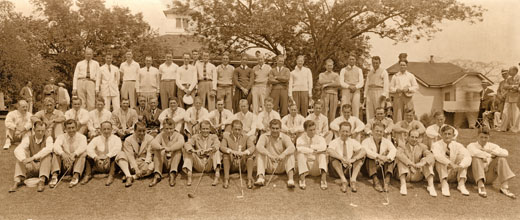 Gene Sarazen took the title, beating Craig Wood in a playoff. It was in the final round of this event that Sarazen played "The Shot Heard around the World", holing a 5-wood for an albatross (double-eagle) on the fifteenth hole.
The photograph features almost all of a stunning field of the best golfers of the day, including at least 18 major winners (with 48 titles between them) and over 650 tournament wins. Notable absentees from the image include top amateur Lawson Little (who finished sixth) and Walter Hagen (tied 15th). - Dr Milton Wayne
 
The Players (from left to right)
Back row: Phil Perkins, Joe Jacobus, Byron Nelson, Al Espinosa, Harold McSpaden, Denny Shute, Freddi Haas, Al Watrous, Gene Kunes, Dick Metz, Willie Kline, Johnny Dawson, Jack Munger, unidentified, Orville White, Ky Laffoon, Ralph Stonehouse
Middle row: Andy Kay, Tommy Armour, Jules Huot, unidentified, Bill Mehlhorn, Fred McLeod, Jock Hutchinson, Frank Walsh, Craig Wood, Ray Mangrum, Clarence Clark, Jimmy Hines, Mike Turnesa, Joe Turnesa, Vic Ghezzi, Abe Espinosa, Walter Kozak, unidentified.
Front row: Jim Foulis, Tony Manero, Bobby Cruikshank, Gene Sarazen, Charlie Yates, Paul Runyan, Bobby Jones, Olin Dutra, Johnny Farrell, Willie MacFarlane, Jimmy Thompson, Harry Cooper, Johnny Revolta, Henry Picard.

Can you name the unidentified players? Write to archive@hkgolfer.com
 
Click here to see the published article.