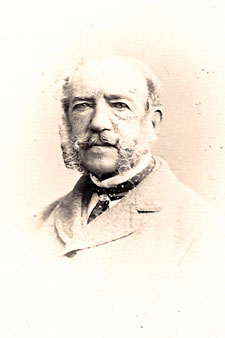 Buying a return ticket Strath set sail for Melbourne from Liverpool Docks on 14 October, 1878 - the week after the Open was played at Prestwick. Travelling onboard the SS Eurynome it would prove a traumatic journey. Falling ill during the 84-day voyage Strath reached southwest Australia on the 8 January, 1879 where he was carried from the ship in an invalid litter. Suffering from acute bronchial laryngitis Sergeant McAdam of Sandridge Police Station was given the task of transporting him to a house in Royal Terrace in the Fitzroy area of the city, where Strath died 20 days later. He was aged just 29.
A month earlier he had entrusted Captain Cooper of the Eurynome with £33 in cash with instructions that it be returned to his wife in the event of his death. With little or no money to his name he was buried in an unmarked grave in the Presbyterian section of the Melbourne General Cemetery in Carlton. Mistakenly interred under the name David Struth, his final resting place remained lost for well over a century until two golf historians - Noel Terry of Royal Melbourne Golf Club and the late Dr David Malcolm of St Andrews - pieced together the story of his final days, including the location of his burial plot
A new gravestone was unveiled in January 2006 bearing the inscription: "DAVID STRATH, CHAMPION GOLFER." Funded by various golfing organisations in Australia and Scotland, a celebratory dinner was held a week later at Royal Melbourne Golf Club. Upon the recount of Strath's remarkable story it was here that Davie finally received a measure of acclaim so long denied him during his lifetime.
No longer forgotten maybe his spirit will be looking down as The Open unfolds at St. Andrews this month - particularly if it ends in a play-off …
Pages