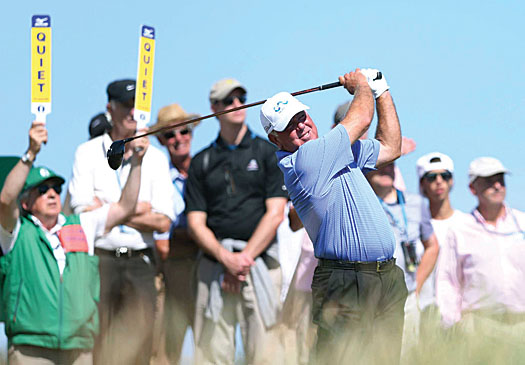 Usually, it is a case of youngsters ringing their parents to report on a good day's work on the golf course. On Open Thursday, it was the other way about as such older hands as Mark O'Meara, Tom Lehman and Miguel Ángel Jiménez were up among the leaders.
O'Meara, though, is one who does not hurry to ring home. Instead, he plays it cool, leaving it for his kids – aged 26 and 23 – to get in touch if they feel so inclined. "Sometimes they send a text, sometimes an e-mail and sometimes they don't send anything," said the 1998 champion, who is now 56 and into his sixth year on the Champions Tour. "It used to bother me when they didn't but it doesn't now."
Especially on a day like the Friday when he was out in 40 and on his way to adding a 78 to his first-round 67.
In all, five proud and wily seniors – O'Meara, Lehman, Freddie Couples, Peter Senior and Sandy Lyle – made the cut. The quintet gave a fresh burst of hope to millions on the wrong side of 50 who had started to wonder if Tom Watson's second place finish at Turnberry in 2009 was just a figment of their imaginations.
Lehman, in assessing how things worked for the older golfer, said that the good rounds could be much the same as they ever were but that the bad rounds were a whole lot worse: "You don't hit as far as you did and bunkers that are out of play for the youngsters are in play for us."
Couples, who finished this year's Open in a share of 32nd place, would have been proud of the way he improved with age over the four days of the championship, with his scoring sequence one of 75, 74, 73 and 71.
Not, mind you, that anyone picked up on it. On Sunday, the questions directed to this former Masters champion were more about the feats of his young amateur playing companion, England's Matthew Fitzgerald, who won the Silver Medal with scores of 73, 76, 73 and 72.
Pages
Click here to see the published article.