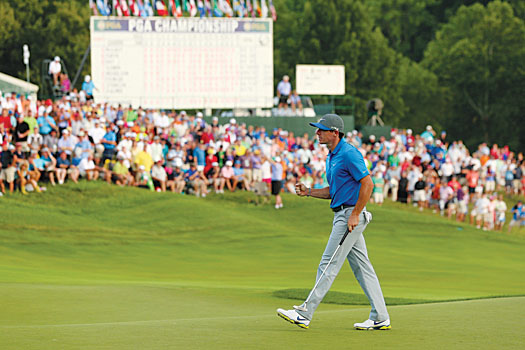 We've seen this before, but from only a precious few.
Rory McIlroy's US PGA Championship victory at soggy Valhalla Country Club in Louisville, Kentucky extended his major championship total to four and his stunning summer winning streak from as many huge events - The Open Championship, WGC-Bridgestone Championship and the US PGA – to three.
Along with it, he's had us reaching for the superlatives yet again and re-inked the history books that aren't yet dry from the previous major instalment at Hoylake.
The Northern Irishman's dominance over the summer months has put golf, and McIlroy himself, back on the front pages for all the right reasons. In the blink of an eye, issues with equipment, management, court cases and relationships have been consigned to fish and chip wrapping, yesterday's news.
Let's tick off some of the records set, starting with the most historic. McIlroy joins Bobby Jones, Jack Nicklaus and Tiger Woods as the only players in the last century to hold four major championships by the age 25 or less. He became the second youngest to win two US PGA Championships, behind Tiger Woods, and the 18th player to win two majors in the one season.
"I thought winning The Open championship a few weeks ago had sort of put me on a higher level in this game," McIlroy said. "I never thought I'd get this far at 25 years of age.
"I was happy being a two-time major champion coming into the year; all of a sudden I'm a four-time major champion."
Pages
Click here to see the published article.