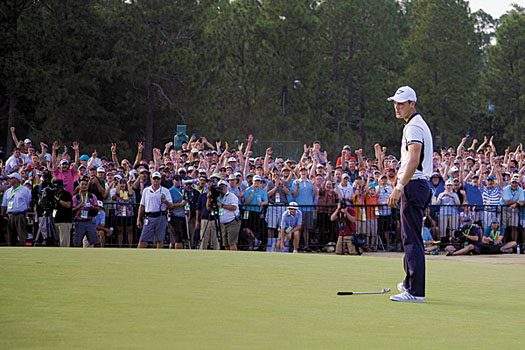 Martin Kaymer has reached the summit and fallen back down again but a magical week at Pinehurst No 2 has the German on the ascent again, running roughshod over the field to win the 2014 US Open by eight strokes.
The 29-year embraced the restored classic of American golf to set all-time scoring records with successive opening rounds of 65, the first in history to do so, and then toyed with the field at the weekend to become the first German and the fourth European in the last five years to claim the trophy.
Kaymer's dominance was proof that his steely performance in May to win The Players and break an 18-month victory slump was the beginning, and not the culmination, of something much bigger, much grander. It was validation for all the hard work he has endured to regain the kind of form that won him the 2010 PGA Championship in a three-hole playoff with Dustin Johnson at Whistling Straits and lift 10 European Tour trophies from 2008 – 2011. It also silenced those that doubted that he was the genuine article when he topped the world rankings a little over three years ago.
"This is quite nice proof, to have two major championships under your belt and only [be] 29-years old." said the 2012 Ryder Cup hero, undoubtedly the hottest man in golf right now.
A historic day lay ahead on Sunday for Kaymer and sleeping on a five-shot lead was not even the half of it. Ahead lay the chance for the Dusseldorf-native's second major championship, tying the all-time German record for major wins with Bavaria's Bernhard Langer.
Whether he knew it or not, Kaymer also slept on the prospect of a slew of scrapbook entry moments; becoming the first continental European winner of the US Open; becoming just the fifth player – alongside Jack Nicklaus, Lee Trevino, Tiger Woods and Raymond Floyd – to win the US Open, PGA Championship and The Players treble; and the only European alongside the great Severiano Ballesteros to have won two majors and held the world number one ranking before turning 30.
Pages
Click here to see the published article.