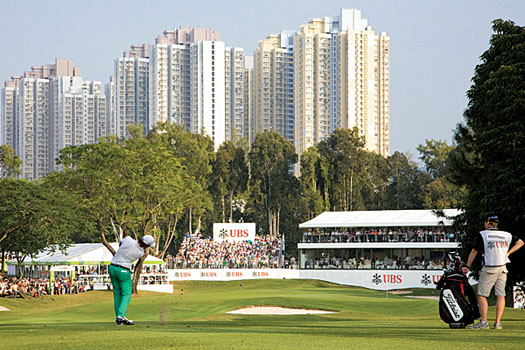 As I write, Martin Kaymer is going to sleep dreaming of an Italian Open title at the Milan Golf Club in Monza. He possesses a mind that I suspect has much in common with the great Italian motor racing driver of yesteryear, Tazio Nuvolari. "The Flying Mantuan" started out on motorcycles and back in the 1920s crashed his bike in practice for the Italian Motorcycle Grand Prix on the Monza circuit that circumnavigates the golf course, breaking both legs. Apparently the doctors told him he wouldn't be able to walk for at least a month, let alone ride a motorcycle. The next day, with both legs in plaster, he persuaded his mechanics to strap him to the bike, hold him while he started and to catch him before he fell over at the end. He won the race. Milan is renowned for its style, but there's plenty of substance too!
Kaymer is just about a shoo-in for next year's Ryder Cup, the qualification process for which started at the Russian Open in early September. It was a tournament remarkably unsullied by the top end of European golf, which is a great shame. I confess I had been slightly nervous, but also excited about going to Moscow. In the early 1980s, flying anti-tank helicopters in the British Army, we were prepared to face a mass onslaught of Russian tanks pouring across the East German plain in a bid to hit Calais within 48 hours. The thought that I would one day be experiencing a guided tour of the Kremlin, hosted by an incredibly well-informed lady who was happy to talk about the deprivations of the Soviet era, never crossed my mind. I was completely taken aback by the magnificence of Moscow, now a modern European city with an exciting buzz about it. For every Lada (I saw two), there were hundreds of Mercedes, BMWs, and Audis. The tournament was played on a brand new and very good Jack Nicklaus signature course owned by Roman Abramovich, the multi-billionaire who owns Chelsea Football Club. There are still hurdles to overcome when playing golf in Russia, but it would be a pity if this isn't a tournament that grows considerably in the future.
In addition to the absence of stars, there was a disastrous showing from the Muscovites; they were much more interested in celebrating Moscow City Day and eight hundred years of history. That's not the case here in Italy, where the Milanese have been turning out in record numbers to cheer on their heroes, just as the Danes and Dutch did for their recent tournaments. Note to Keith Pelley, the European Tour's whirling dervish of a new chief exec: perhaps the single most important thing for a good tournament is atmosphere. The best players in the world won't make a tournament exciting on television if there's nobody there watching. It's something that the mandarins at the Tour will need to consider as they plan the shiny new future of a 'Rest of the World Tour'. For the last month I've been trying to think what this ROTWT should be called. (I should emphasize that as yet it's only officially Europe and Asia that have merged, but I reckon it's only a matter of time before South Africa, Australia, the British Virgin Islands and Outer Mongolia all sign up). 'The Global Golf Tour' is a possibility, but a bit lacking in sparkle. Any offers?
Pages
Click here to see the published article.